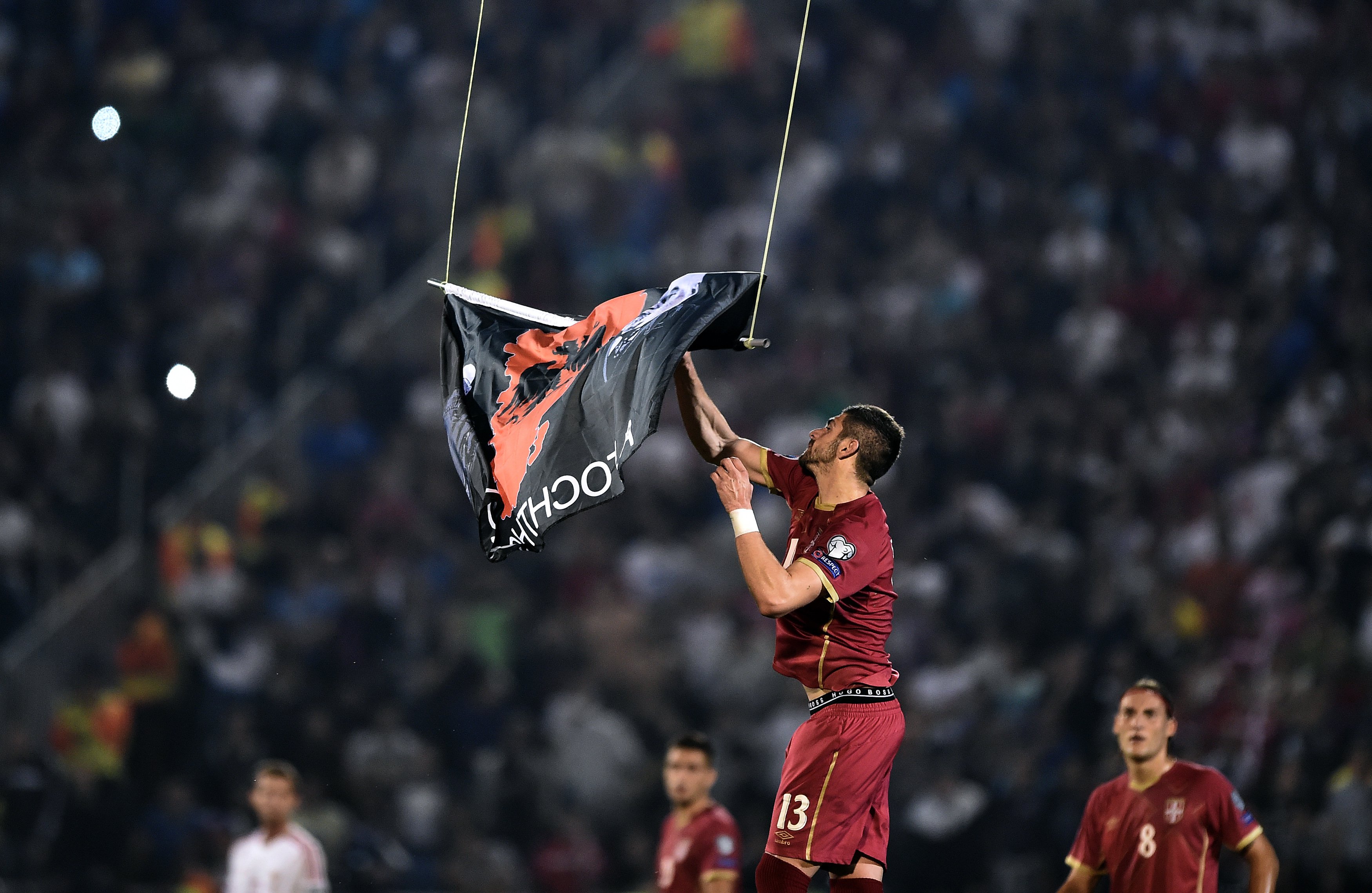 By Milos Mitrovic – Belgrade
A drone carrying Albanian flag and the map of the "Greater Albania" which has appeared above the pitch during the tense football match between Serbian and Albanian national teams in Belgrade on Tuesday evening has caused fight between players. Serbian funs have subsequently invaded the pitch and European Championship qualifier match has been suspended.
Olsi Rama, the brother of the actual Albanian Prime Minister Edi Rama was suspected for provoking the incident, Serbian Foreign Minister Ivica Dacic has confirmed. Namely, Olsi Rama who was at Belgrade stadium with the group of other Albanian funs has launched the drone carrying the flag of his country and the map of so called "Greater Albania" that incorporates the parts of Serbia, Montenegro, FYROM and Greece.
He allegedly manipulated the drone by remote control. The drone flew from the roof of the orthodox church near the stadium, Belgrade media claim.
According to minister Dacic, Rama and the group of other Albanian funs have been allowed to attend the match at the insistence of the EU diplomats despite they did not have the tickets. UEFA has recommended earlier that Albanian funs should not be present at the stadium because the match was assessed as possibly high risk manifestation.
Serbian player Stefan Mitrovic has caught the flag from the drone, but Albanian players than tried to take it from him. The result was fight between the players and invasion of Serbian funs into the pitch. According to regional media, Albanians were celebrating the incident with the flag in Tirana, Pristina and other towns. Serbian embassy in Tirana was surrounded by hooligans.
According to the accounts of Serbian media, Olsi Rama has been briefly arrested and then transported to Belgrade airport along with Albanian journalists. He allegedly said "nobody can do anything to me because I am United States national".
Olsi Rama's brother, Albanian PM Edi Rama posted on Twitter that "Serbia has made bad impression". Edi Rama is to come to Belgrade next week, in a first visit of an Albanian premier to Serbia in 70 years.
"This has never happened before at some football match", Ivica Dacic told "Blic" adding that the incident was planned. "For me the key question is what will be the reaction of the European Union and UEFA. If somebody from Serbia had installed flag of "Greater Serbia" in Tirana or Pristina UN Security Council would tackle the issue", Dacic underlined.
Dacic stressed that Olsi Rama was guest (at the stadium) who made political provocation.
"Serbia cannot be responsible for the suspension of this match", he added.
Photo: Stefan Mitrovic takes the flag from the drone (AFP)