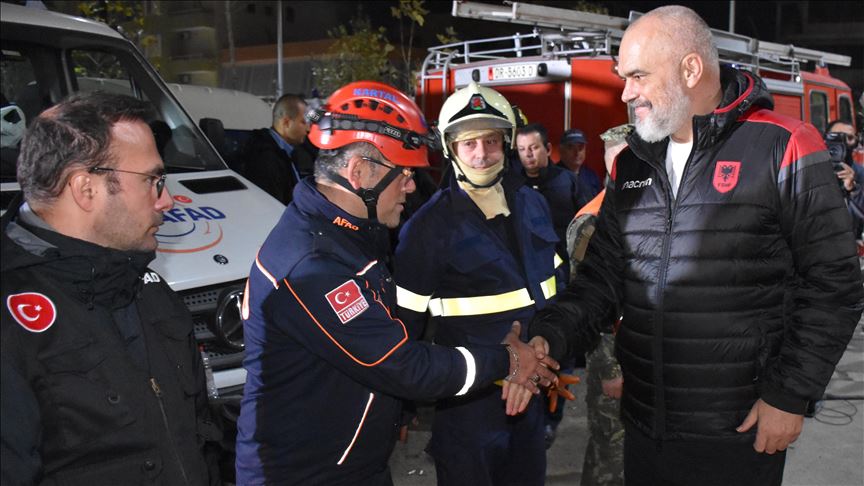 Albanian Prime Minister Edi Rama thanked Turkish President Recep Tayyip Erdogan for the help of Turkey after the devastating earthquake in Albania.
The efforts of Turkey and President Recep Tayyip Erdogan will remain in memory and will never be forgotten, Albanian Prime Minister Edi Rama said on Wednesday.
"On behalf of all, I express my gratitude to Turkey and President Erdogan," Rama said.
"Turkey is a big and powerful country, we are a small and weak country, but whenever Turkey needs it we will be there; the Albanian people will never forget Turkey's help", the Albanian Prime Minister said while inspecting the search and rescue operations at a hotel on the beach of Durres.
He also noted that more than 30 people were killed and 600 injured but warned that casualties could rise.
The death toll from the 6.4 magnitude Richter earthquake in western Albania on Tuesday rose to 37, according to the country's defense ministry. Health authorities said 658 were injured, eight of them seriously.
Turkey's disaster relief team arrived on Wednesday with a rescue and humanitarian aid team.
Fifteen search and rescue workers are currently working in Durres, the epicenter of the earthquake, in the hope of rescuing those trapped under the debris, the Turkish Presidency said, alluding to the Disaster and Emergency Response Team (AFAD)./ibna