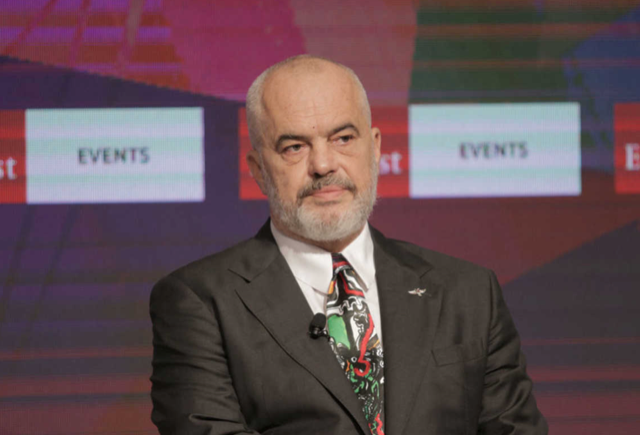 Speaking about the maritime demarcation agreement of 2009, during his participation in Athens at the Economist conference: "Western Balkans after 2020", Rama said that "this was an agreement rejected by the Constitutional Court of Albania".
"I am convinced that we are on the right track. We had an intensive dialogue with the previous government on a package of issues that need to be addressed and resolved, as they suddenly turn into hot issues in the fire of domestic politics, while they are only issues that have no fire and importance in the degree that Albanian-Greek relations have developed, which is in fact the land of wonderful relations between people", Rama said.
"Our challenge is to make the politics between the two countries as good and excellent as the relations between the peoples. What I understand from my Greek friends and what I see in my Albanian fellow citizens is that there is no negative feeling or dissatisfaction between people. Exactly the opposite. And we owe it to ourselves to bring people to this level. I am absolutely convinced that with the new government we are here in the right direction", he said.
"We have everything we need to solve not only this, but all the other things. Let them no longer be used by dark forces in our societies as a reason to trigger tensions or go back to the ghosts of the past. I have a very simple idea that I have presented in the past and I hope that once we reach an agreement on maritime areas, we can resolve the issue with the help of others. Which means through a third party that helps us in a friendly manner or even better at the International Courts. "This can be fair, objective and can not be used by patriots here and there", he said.
"Imagine the Prime Minister of Greece speaking before the Greek parliament for a perfectly legal right of Greece, based on the International Convention on the Law of the Sea to extend its maritime borders by 12 miles. This alone is an issue on social media in Albania. Similarly in political circles. Do you think that the Greek Prime Minister should answer to people who do not know what they are talking about? So this always triggers resentment and disagreement based on issues that can be resolved", Rama continued.
Responding to former Greek Foreign Minister Dora Bakoyannis, who said: "I was the one who signed the maritime agreement with Albania and of course I was very upset when I heard about the decision of the Constitutional Court. This is not an excuse for the fact that 10-12 years later we still do not have an agreement. We have to believe that we have to try harder. To find an agreement with Albania. This is important for both our countries. Certainly the intervention of third countries in such matters does not help. We know that Turkey is opposed to this agreement", Rama said that "the Albanian Constitutional Court ruled on this agreement in 2009. At that time, I had never met, I had never spoken and I had never heard from President Erdogan and then Prime Minister of Turkey, we had no reference, because we were the party of the main opposition and we decided to deliver the agreement to the Court for a very simple reason. There was a great deal of debate in society started by some members of civil society and I did not want this debate to become political and turn into a normal fight between the opposition and the government in our area for traitors and patriots and all this nonsense. And I said take it to Court. The court has all the means to check it. The view which I also heard in Albania, I heard it last week from top authorities of the past and today that this is an agreement that was blocked by Turkish intervention. This is completely untrue. I can say, and that is just my word, I have no records, but I have never heard from him, in any meeting with President Erdogan, that this agreement or this issue between Albania and Greece is of interest to Turkey».
"We have to clarify it, to leave such ideas that affect our attitude towards the other. Do we want to solve it? Yes. Do all parties understand that this is solvable? Yes. And I am very grateful to Prime Minister Mitsotakis and Minister Dendias, because they had a very constructive attitude and showed the will to resolve it, without having to return as if nothing had happened, but appreciating the current situation we had with the last government and having a clear to understand that no one is interested in holding this issue as an obstacle to unleashing the full potential of this relationship", Rama stressed./ibna