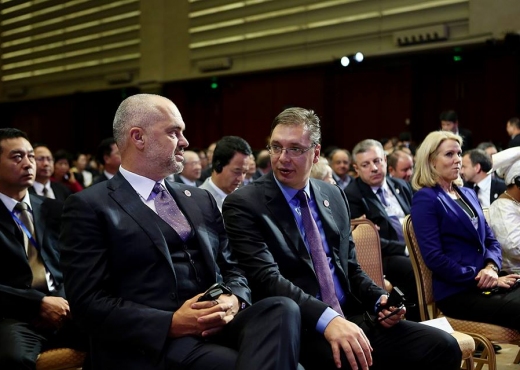 Belgrade, May 26, 2015/ Independent Balkan News Agency
By Milos Mitrovic
A day before Serbian Prime Minister's landmark visit to Tirane, his Albanian counterpart said that he expects the cooperation between two countries would be widened. In the interview to Belgrade's Danas daily, Edi Rama stressed that Serbia and Albania should "march together" on their path towards peace and European integrations.
Albanian premier said he is convinced that Albania and Serbia, as well as Albanian and Serbian people, "could do for the Balkans what France and Germany, French and German people have done for Europe after the World War II".
He underlined that during Aleksandar Vucic's visit the Serbian flag would be raised and national anthem played for the first time in Albanian capital.
"Alongside the fact that this will be the first official visit of an Serbian Prime Minister to Tirane, it will have special importance because of our commitment to continue the progress in the process which was run in Berlin last August, under the visionary leadership of the German Chancellor Angela Merkel", Rama said. He alluded to the Western Balkan conference which was held in Berlin in 2014.
Albanian PM added that he is fully confident in the "vision and will" of the German Chancellor considering the future of the Balkans.
"Not only because we share the same vision and assurance that Europe today needs the Balkans – just as the Balkans need Europe – but also because we are aware that if we fail to work together for our future, we will be all threatened to regress to the past", Rama said, adding that "this puts a burden on us, much bigger than the one we already bear in leading our countries, which is an extraordinary responsibility. There is no doubt that the success of our cooperation would define not only the destiny of Serbs and Albanians in the future, but also the destiny of the united Europe project, the most remarkable peace project which mankind had conceived and conducted ever", Rama concluded.
Among other issues that will be on the agenda during Vucic's visit, prime ministers and delegations members will discuss infrastructure projects such as constructing highway from Nis in Serbia to the Albanian coast.
Earlier this week Rama's adviser Shkelzen Maliqi said that Serbia and Albania share the same goal of normalizing the bilateral relations. "Although there is resistance in both societies, there is the need to establish a better cooperation", Maliqi added.