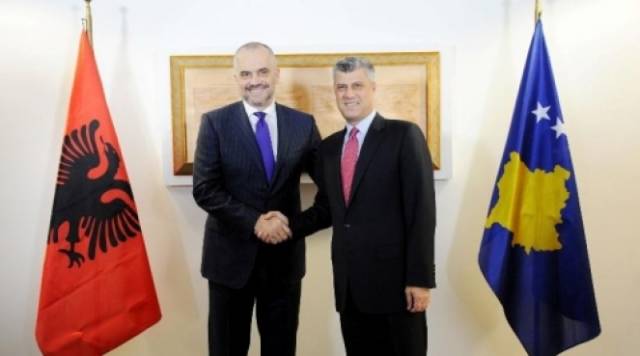 Pristina, September 13, 2013
Prime Minister of Albania, Edi Rama was received today through a state ceremony by the Prime Minister of Kosovo, Hashim Thaci.
In "Mother Teresa" square in Pristina, the Guard of Honor played the anthems of the Republic of Kosovo and that of Albania.
Meeting between Rama and Thaci took place in the building of the government of Kosovo. Meanwhile, they are expected to come up in a press conference.
Rama is also expected to meet with President of Kosovo, Atifete Jahjaga and speaker of parliament, Jakup Krasniqi.
Meanwhile, meetings are expected to take place with ministers of different domains. The Minister of Economic Development, Fadil Ismajli is expected to meet with the Minister of Energy and Industry of Albania, Damian Gjiknuri, whereas the Minister of Education and Sport of Albania, Lindita Nikolla will meet the Minister of Education, Science and Technology, Rame Buja.
During the afternoon, the Minister of Culture, Youth and Sport, Memli Krasniqi is expected to meet his counterpart from Albania, Mirela Kumbaro-Furxhi. /ibna/