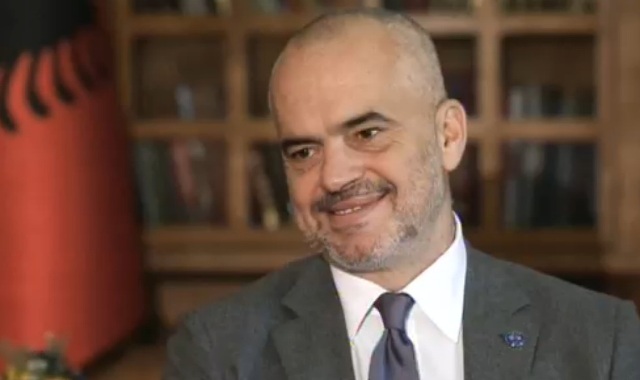 The Albanian PM talks about the Cham issue and the law of war
Prime Minister of Albania, Edi Rama assures the neighboring countries that Albania doesn't have any claims for border changes and that its only aim is to become an EU member. Mr. Rama was interviewed in his office in Tirana by the Greek TV channel "Skai". The interview was filmed and broadcasted in the early hours of today. Mr. Rama said that "we have no claims and nobody else can have claims such as border changes or a strategy to change the borders with the aim of taking parts of Greece or Serbia or to take parts of Macedonia and to make this a natural Albania".
Asked how he views the current relations between Albania and Greece, PM Rama said that they are very important. He said that there are pending issues for which he suggested dialogue "through mutual generosity and understanding and with the clear conviction that the interests of Albanians and Greeks cannot stop us to build a brilliant future together".
Rama also commented his declaration on an Albanian who had saved the Acropolis: "The fact that Albanians have given their contribution for Greece and for the Greek society and the fact that at that time, many people spoke the Albanian language, doesn't make Athens an Albanian city".
Meanwhile, he elaborated on his idea: "This is not an insult, but a pleasant historical fact that an Albanian happened to be in the right place, at the right time and he was the right person to make this kind of negotiation to prevent the Acropolis from being bombarded. It could well be a Greek, a Chinese, but it happened to be an Albanian".
Rama accused the political class for causing nationalism: "We must always think how many important things we can do for each other in a country sunk in the dark waters of nationalism, hate, conflict and media manipulation, which is a result of the politicians that only care about the next elections and not the next generations".
Rama also commented what is known as Greater Albania or Natural Albania. He said that these are not notions which have been generated by Albania. "These are notions generated by others, who are scared or who have created this notion due to different agendas".
He said that for the country, it is very important to be part of the European family. Rama assured that "there are no plans for a Greater Albania".
The Prime Minister also defended the Albanian books with maps of the time where Albania didn't appear divided by the London Conference of 1913. "I don't think that it's irredentism to say tell our children where Albanians have lived and I don't think it's irredentist to tell people that there was once a place called Chameri, which was inhabited by Albanians".
Here, Rama expressed his concern that according to him, Albanians of Chameri are not allowed to visit "their lands"."Can you imagine? People cannot go where they used to have their homes and where their families used to live". He said that they "were forced to leave their homes" and he expressed his surprise about the fact that they were not allowed "to visit them again".
At this point, Mr. Rama was more direct: "But there is a problem. These people were banned from their homes. Their homes are in Greece and they have the right to return whenever they want and claim their properties if they want to. What's the problem here?"
The Albanian PM admitted that during the Second World War, some of these people had committed war crimes, but he said that they must not be generalized.
"Where in the world have we seen an entire community to be labeled as collaborationist?"
Rama also spoke of the war of law and said that this law is still being kept in force by Greece. "There's a royal decree which is still in force. Why don't we abolish it?" The PM suggested that "this law is used as an obstacle for the Chams to follow a legal path in seeking their rights". He said that the Greeks are paranoid about the Chams: "I understand it, but I don't want to accept this insane paranoia when the word Cham or Chameri is mentioned. This used to be a place where our people have lived". Meanwhile he added that the Chams are not seeking "for this area to become an autonomous area in Greece".
Another topic which has been handled in this interview was the topic of the division of maritime borders between the two countries. He said that this issue can only be solved by a third party. Meanwhile, he denied the Turkish influence in the abrogation of the agreement.
The Prime Minister also commented the fact that Greece is exploring the Ionian Sea and that information has been requested from the Greek side. "This is a contested area which is supposed to have an important source of oil and gas. Why can't we see it as a big opportunity to solve it together?"
Another much debated argument was related to the thousands Greek soldiers who have been buried in Albania since the Second World War and for whom a special graveyard has not yet been built, although this has been requested for years by the Greek government.
Rama says that this issue is an integral part of several pending issues and that they could be solved as part of a package.
On the other hand, Rama said that it is insane that certain Greek circles consider the south of Albania as Vorio-Epirus of Greece. "There are people in Greece who talk about insane things such as Vorio-Epirus. But I don't take them seriously. They are crazy to think that Greece must extend as far as central Albania".