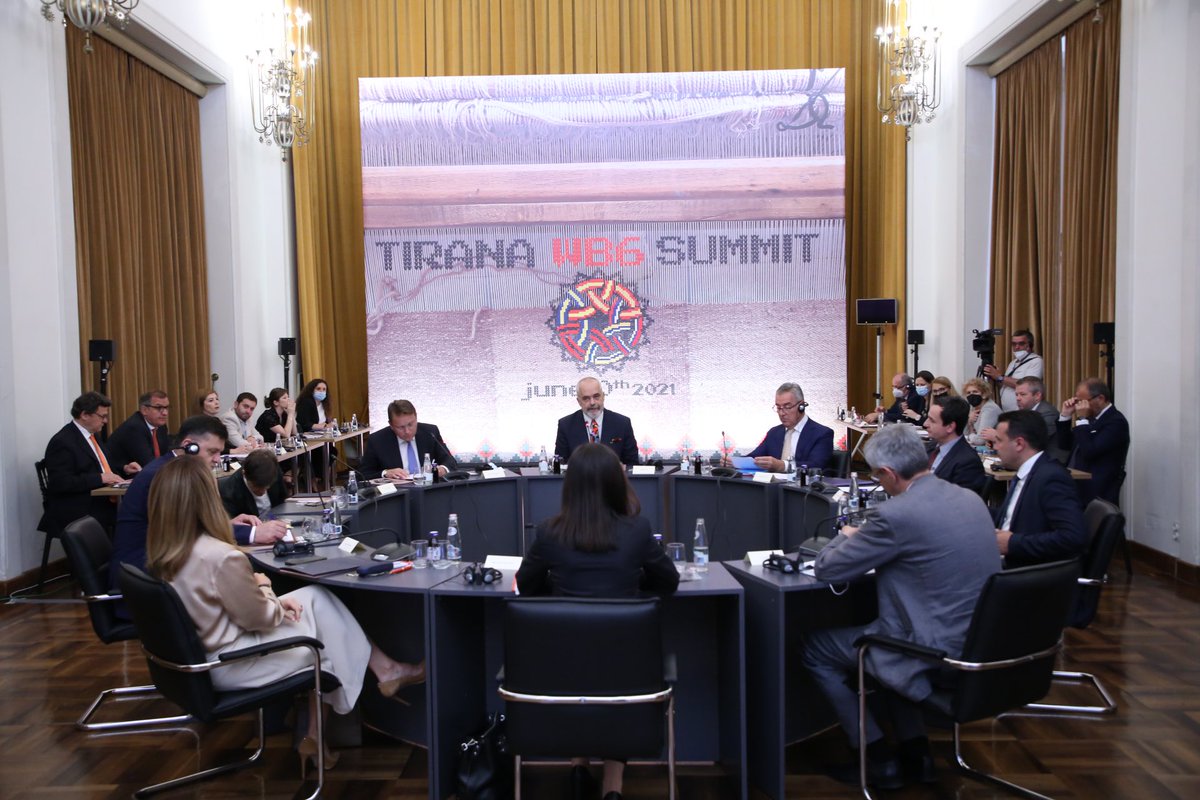 The EU-Western Balkans summit is taking place today in Tirana to discuss the EU's implementation of the Economic and Investment Plan that aims to help the six Western Balkan countries on their path to recovering from the pandemic.
The Summit will bring together 6 Western Balkans leaders (Albania, Bosnia and Herzegovina, Kosovo, North Macedonia, Serbia, and Montenegro) and the EU Commissioner on Enlargement Oliver Varhelyi.
Prime Minister Edi Rama has opened the summit of the Western Balkan Leaders in Tirana.
Rama said that the participation of Balkan leaders in this summit is a clear sign of the implementation of the EU plan and the common regional market. He stressed that this summit is a key instrument that will help the economy recover after the pandemic to move towards sustainable growth.
"We start the working session. Thank you for accepting the invitation in such a short time and I am happy to welcome you. Your participation is a clear sign of our willingness to start the implementation of the EU plan and the common regional market.
I am very grateful to the EU Commissioner who launched and promoted this grand plan as a key instrument that will help us recover economically in a post-pandemic time and move towards sustainable growth and build on the green and digital transition, "said Rama.
After the opening of the summit, the meeting continued with the speech of the European Commissioner without the presence of cameras.
Good exchange w #WesternBalkans leaders in Tirana on bringing forward our common agenda. @EU_Commission put fwd almost €30 bn Economic&Investment Plan, a third of region's GDP. Implementation now is key: with IPA III agreed, we are ready, important that region is ready too. pic.twitter.com/QbPmvHIGg0

— Oliver Varhelyi (@OliverVarhelyi) June 10, 2021
Likewise, in a post on Twitter, EU Commissioner Varhelyi stated that during the meeting, the parties will discuss the implementation of the economic recovery plans, three weeks ahead of the Berlin Process Summit to take place on July 5.
On June 2, the EU approved a budget of €14.2 billion in funding for the Instrument for Pre-Accession Assistance (IPA) for the 2021-2027 period in the Western Balkans, without specifying how much money Albania will receive.
Meanwhile, on September 11, 2020, Albania approved a €180 million loan from the European Union, to overcome the consequences of Covid-19. The loan was part of a €3.3 billion macro-financial assistance package for the Western Balkan countries by the European Council.
The summit is also being held two weeks before the European Council's decision on the opening accession of negotiations with Albania and Northern Macedonia, subject to final endorsement by the members of the European Council./ibna