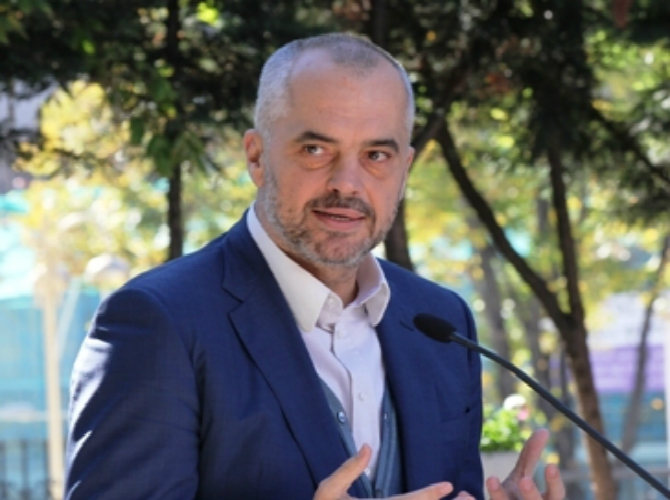 Athens, June 18, 2015/ Independent Balkan News Agency
By Spiros Sideris
The Prime Minister of Albania Edi Rama hinted that his government is ready to move towards resolving the delimitation of the continental shelf with Greece, with the means provided by the international law, since he described as "complete nonsense" the unresolved issue of the belligerence between the two countries.
When asked during the interview to the channel "News 24", if Albania will submit an appeal to the International Court of Justice on the matter, Rama replied: "So far it does not appear the Greek side have begun a specific hydrocarbon exploration project in the Ionian Sea, as this would constitute a serious offense and violation of the international law of the sea".
"It's almost a very fragile situation, but for us it is a matter of national interest and national sovereignty of Albania and further discussions will be needed to find the best possible solution. Since the beginning we were willing to accept the mediation of a disinterested third factor", he added.
When asked if Athens has proposed a "package" for the resolution of all outstanding issues between the two countries, as was stated a few days ago by Greek Foreign Minister Nikos Kotzias, the Albanian Prime Minister said he is unaware of such a proposal.
"We were always ready to discuss all outstanding issues from the past and we have expressed the need to start from the law of belligerence, which is completely stupid and continue the discussion on the other issues. We started to work with the previous government last year. We solved the issue of place names that tormented thousands of Albanians. But then things changed in Athens and we expect the Greek government to be more calm, to solve the crucial problem with the lenders and then look at the possibility of finding appropriate solutions calmly".
Albanian Prime Minister made these statements to the television station "News 24", from the square of Himara, for the municipality which a "fight to the death" will take place between the candidate of the ruling Socialist Party and current Mayor Giorgos Goro and the candidate of the Union of Human Rights party, representing the ethnic Greek minority Dionysis Freddy Beleris.
"They will lose like they lost the last time", Rama said when asked about this confrontation, appearing confident of the victory of Goro.