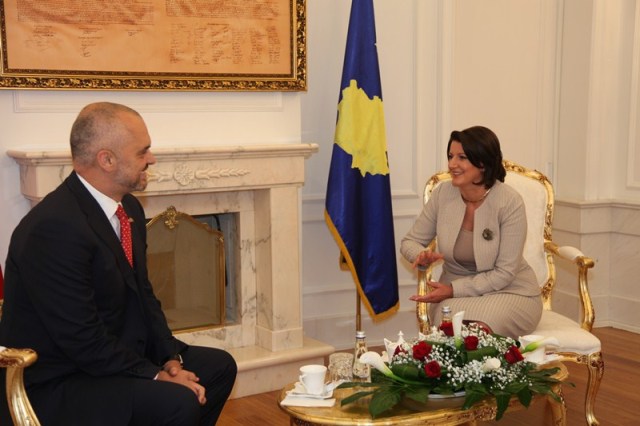 Pristina, September 13, 2013
In the framework of his visit to Kosovo, mandated Prime Minister of Albania, Edi Rama was received in a meeting today by the President of Kosovo, Atifete Jahjaga.
Jahjaga welcomed Prime Minister Rama and congratulated him about the free and honest parliamentary elections in Albania. She said that it's the duty of the country's leaders to offer political platforms and development programs, which aim the progress of the country.
President Jahjaga said that Kosovo and Albania have made considerable progress and are capable of demonstrating their best values, with the support of USA and EU.
The President stressed the importance of joint projects in exploiting natural sources of both countries and in a regional point of view, underlining that "we possess an important potential, youth, the need to give life to their dreams and the importance for concrete involvement in the development of the two countries".
President Jahjaga praised the importance of cooperation in the path toward European integration and said that Kosovo can learn from the reforms that Albania has carried out in fulfilling the necessary criteria for accession. She praised Rama's engagement to build bridges of cooperation in the best interest of the future and peace in the region.
On his part, Rama praised the role of President Jahjaga and the entire leadership of Kosovo in the process of normalization of relations between Kosovo and Serbia, stressing that this process has opened a new era of regional cooperation. He expressed the engagement of his government toward the joint projects and the creation of a platform of a strategic joint governing and by targeting the involvement of the countries of the region and their support by international funding. Prime Minister Rama stressed the importance of the creation of long term projects and expressed the commitment of his government in the exchanges between the two countries, which will serve to future generations, especially in the domain of education, culture and sport. /ibna/