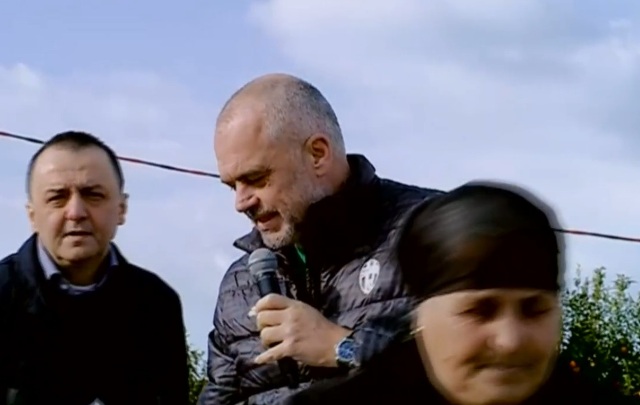 In an effort to soften the tense relations between Albania and Greece, Mr. Rama has lowered his tones in relation to the recent developments that relate to the concerns of several residents in the south of the country for the demolition of their homes.
Mr. Rama was in Konispol on Friday (photo), where in a meeting for the distribution of legalization certificates and property titles on their agricultural land, he issued messages of cohabitation between minorities and Albania. "Minorities of this area receive a very clear message, which is the message of our government, that for us, there is no difference, on the contrary, we respect the rights of everyone", Mr. Rama said.
Rama also launched criticism against several Albanian and foreign politicians without mentioning names: "All of those who make a lot of noise in Tirana or elsewhere about the property rights of minorities in Albania, here you have a meaningful example how we respect the rights of every citizen, be them of Albanian nationality, be them of Greek nationality".
Rama said that "due to political reasons alone, unnecessary waves are often raised in an artificial way, in order to blow to a fire which can be spread on the media, on newspapers, political circles, but it can never be spread where Albanians and minorities cohabit like brothers, like neighbors. This is in the foundation of these communities and these foundations cannot be affected by politics, although politics try to abuse our approach with the minority, as it was the case of several constructions without permit in Himara", said the head of the government.
Earlier, in several public appearances in the recent days, Mr. Rama has expressed the need of relations between Albania and Greece. He said that the problems between the two countries must be solved with the understanding of the sides.
In the last report issued by the EU, one of the seven conditions of the Union was respect of the rights of the minorities and their properties and good cohabitation with neighbors.
Dialogue with the opposition, minorities and neighboring countries are the EU's conditions for Albania