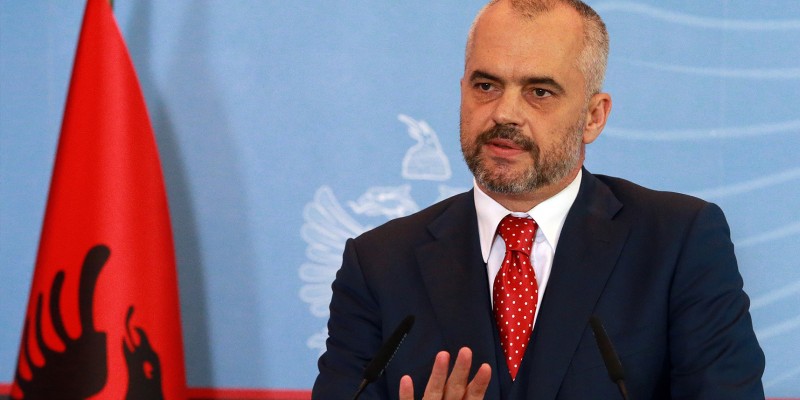 Athens, May 28, 2015/ Independent Balkan News Agency
By Spiros Sideris
The Prime Minister of Albania Edi Rama said his country has good neighborliness and strategic partnership relations with Greece, but, as he pointed out, referring to the delimitation of the continental shelf agreement, "we will not negotiate the national interest for the sake of good neighbourly relations".
"We have absolutely no problem with the government in Athens. I congratulate the Prime Minister Tsipras on his election and I invite them to visit Tirana as I would be happy to visit Athens", said the Prime Minister of Albania.
"No one should be surprised if the Albanian state sought from the Greek authorities on the basis of diplomatic practices, information on research at Ionian Sea. And it is no secret to say that it has not yet begun, with the new government in Athens, an attempt to find common ground and resolve a matter of national interest, such as the maritime border. We do not intend to negotiate our national interest for good neighbourly relations. We have no intention of closing our eyes when a problem occurs, which we did not create", Rama said.
Commenting on the election of Shpetim Idriz, of the extreme nationalist party of Chams, the PDIU, as Vice President of the Albanian Parliament, he said: "On this issue, as we cannot imagine indicating to Athens how to choose the leadership of the House or its government, in the same way we cannot imagine Athens doing the same to us", Edi Rama said.
The Albanian Prime Minister made the declarations during a joint press conference with his Serbian counterpart, Aleksandar Vucic, who is paying a two-day visit to Tirana.
The Representative of the Greek Foreign Ministry, Constantinos Koutras, answering questions from journalists on the occasion of yestreday's statements by the Prime Minister of Albania, Edi Rama, said: "The political leadership of our friend and neighbourly country is erring daily, both with deeds and words. The return to reason and respect for legality and international law is the safest way for the European perspective of Albania. No further comment".
The Coordinator of Foreign Affairs and Defence of the New Democracy, Kostas Tasoulas, regarding the statements by the Albanian Prime Minister for relations between Greece – Albania made the following statement:
In his interview the Albanian Prime Minister Edi Rama escalates the tension with Greece, saying that in the issue of the delimitation of the continental shelf he will not negotiate the national interest for the sake of good neighbourly relations and that he does not accept instructions on appointing a member of the extremist and with a Nazi past party of Chams to the Vice-Presidency of the House.
It is time the Greek government, which with its stance and incoherent policy undermines the credibility and prestige of our country internationally, to make it absolutely clear that such provocative statements do not promote neither the stability nor good-neighborliness, nor the European perspective of Albania.
In short, they do not promote its interests.