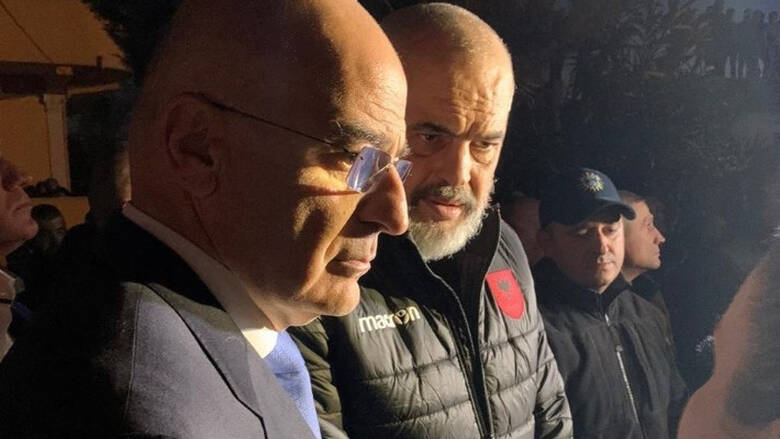 Greek Minister of Foreign Affairs Nikos Dendias visited the Albanian areas affected by the devastating earthquake on Tuesday night, sending a message of support to the tested Albanian people.
Nikos Dendias, accompanied by Albanian Prime Minister Edi Rama in Durres, stated that "I am standing here following Prime Minister Kyriakos Mitsotakis' command, along with two EKAM units ready to help as much as we can the friendly Albanian people", to add that "we have been through this ourselves; we know how it is; we will do what we can to help. We stand by the Albanian people, the country's government, in any way possible".
After thanking the Albanian Prime Minister for being present during his visit, they then visited the stadium of the city that has turned into a hospital for the care of the injured.
For his part, the Albanian Prime Minister noted: "We feel good because we are not alone. I am very grateful to all my friends and I am sincerely grateful to the Greek Prime Minister and the Minister of Foreign Affairs. They called me right away and just wanted to know what they could do and where to go to help. This is incredible and I thank them very much, as well as the Greek people".
Afterwards, Nikos Dendias left for Tirana where he met with Albanian President Ilir Meta.
The Greek Minister of Foreign Affiars thanked the Albanian President for accepting him under such difficult conditions, while informing Ilir Meta that he was visiting Albania by order of the Greek Prime Minister, in order to express condolences to the Albanian people and to him personally, and for Greece to help in any way possible during this difficult time.
"Unfortunately, Greece's relationship with earthquakes goes way back. Two EMAK units are already here, providing assistance. We are ready to help in any way you need, with any kind of support from the European Union and beyond", Nikos Dendias stated.
Finally, he promised the Albanian President to return to Tirana under better circumstances. /ibna