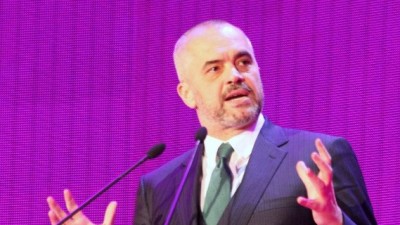 Tirana, May 6, 2013
The chairman of the Socialist Party, Edi Rama, declared today for the media that patience should be shown until this evening in order to learn the names that will run for parliament in every constituency.
Rama said that he understands everything that has been speculated and said in newspaper and on television, often doing the right thing, often causing confusion, while adding that he has several things to say before the leading board of the Socialist Party gathered in order to certify the national team.
"First of all, I'd like to thank all the socialist MPs, who during these 4 years contributed in opposition resistance and who, for the sake of a necessary reconfiguration, will not be part of our national team. I'd like to thank those, who for the sake of the team, have accepted to move several places down on the list, showing that their involvement in this team relates to the passion to take things forward and not with the ranking number. This team will consolidate what we have consolidated during these years, reaffirming the basis of the value, of all that human, political and cultural content of our cohabitation, at the same time bringing in new people, with new energies, which are in the process of conforming to our political family", declared Rama.
Rama added that this list consolidates the team and offers the necessary experience to win and govern.
The chairman of the SP said that this party continues to rotate generations, without causing conflicts or grudges. Rama declared that he has decided to be first on the list of Vlore, with the scope of making the Albanian state independent and make it reborn. As far as the candidacy of Erion Brace is concerned, Rama said that he will be part of the SP lists and rejected all rumors that stated the contrary. /ibna/