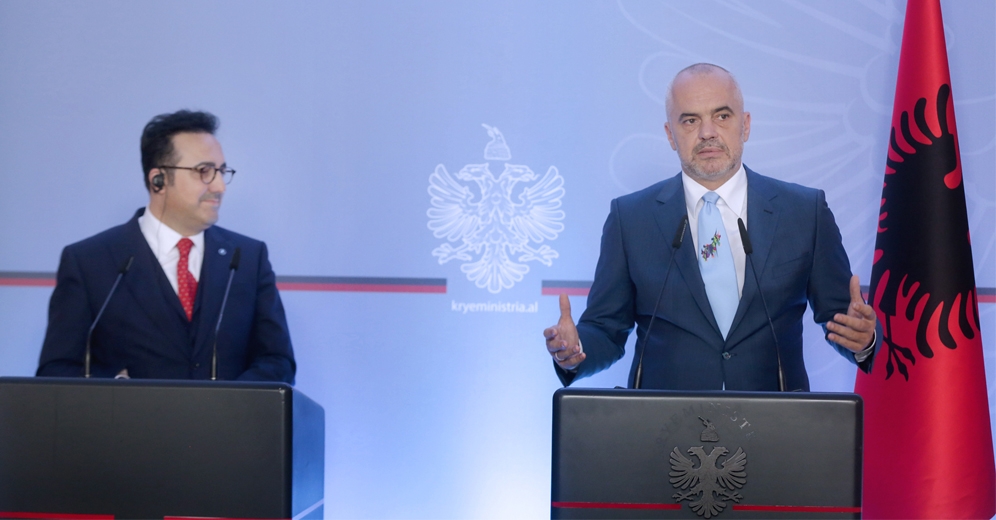 The left wing government led by Prime Minister Edi Rama has decided to grant concessions to Turkey on air flights to Albania.
Mr. Rama announced the plan agreed with the President of Turkey, Erdogan for the Turkish airline company, Turkish Airlines, to handle the creation of an Albanian airline company.
At the same time, the second Albanian civil airport will be built in Vlora with Mr. Erdogan's support too.
Yesterday, Rama delivered a special press conference along with the head of the Board of Directors at Turkish Airlines, Ilker Ayci, to announce these developments. The information provided by the two officials was not a lot and this makes this issue surrounded by mystery.
It is not clear if the airport of Vlora will be a concession deal or if it will be funded by the Turkish government in the form of a loan or a donation for the Albanian government. Also, it is not known what will be the rights of Turkish Airlines and the Turkish state on this airport and on the Albanian airline company that will be born as a product of Turkish Airlines.
In this press conference, Mr. Rama said that "the establishment of a new Albanian airline company has started to be projected thanks to special support by President Erdogan and the technical assistance offered by the Turkish Airline team".
Rama declared that the first flights will start within this year. He didn't explain how this company will function, but confirmed that it will be an entirely Turkish product: "It is not merely technical assistance in terms of drafting a project on paper, but assistance which will apply to services as a strong support for the new Albanian company. Finally, we will have an Albanian airline with our flag, which will offer the same quality as Turkish Airlines".
The chairman of the Board of Directors at Turkish Airlines, Ilker Ayci said that "we're taking the necessary steps to realize this project as soon as possible" adding that "we will offer to the Albanian people services that will make them happy".
As far as the construction of the new airport of Vlora is concerned, Rama sees it as "a necessity for further economic development and to further boost tourism in Albania".
"Through the launch of an Albanian airline company, we will launch a new era, where the airport of Vlora will be of an added value", Mr. Rama said.
Experts say that the airport of Vlora is of a strategic importance for Albania and businesses. By making direct or transit flights through Tirana, this airport may bring a high number of tourists in the beaches of the Albanian coast, where some of them are still unexplored.
Neritan Sejamini, founder of the Institute of Contemporary Studies and former advisor to a number of prime ministers, comments on the cooperation between Rama and Erdogan.
"It is a fact that the airline industry is one of the most problematic industries in the world and very few airlines making profit today. It seems that Prime Minister Rama doesn't have this problem. Today, he informed us that with 'President Erdogan's assistance, he will 'create' an Albanian airline company which not only will send ticket priced down, but will also improve the quality of service for Albanians".
Sejamini says that this has mysteries in itself: "But Rama didn't say how much this will cost, whose money will fund the investment and whose money will subsidize the operation", stressing that "the possibility for a newly created Albanian airline to make profits by competing in the free market, without privileges and subsidies, is almost zero."
Here, Mr. Sejamini also makes this comment: "When it comes to making show, our Prime Minister doesn't really care about the cost".
***
Prime Minister Rama's press conference with the head of a business company is among the rarest ones that a Prime Minister makes. It comes a few days after the announcement of the official song that will accompany the Socialist Party's campaign. During this clip, images of Turkish Airlines are shown. /balkaneu.com/