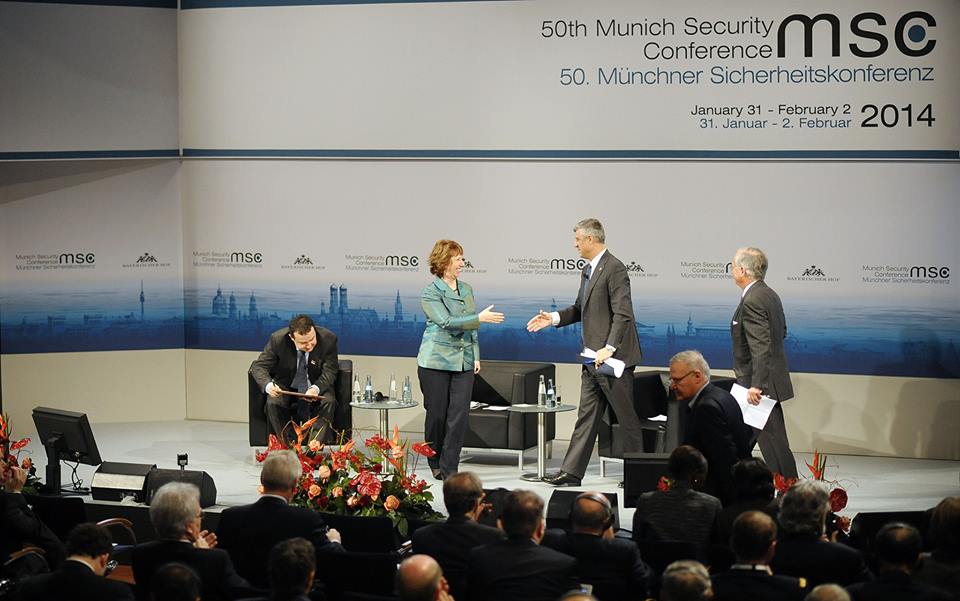 Tirana, February 3, 2014/Balkan Independent News Agency
Albanian lobbying for the nomination of the prime minister of Kosovo for the Nobel Prize for peace. The leader of the Socialist Party, Edi Rama has sent on Monday a letter to the heads of all parliamentary parties in Albania to back the nomination of the prime minister of Kosovo, Hashim Thaci for the Nobel Prize.
The letter was sent to the majority and opposition parties. In this letter, Mr. Rama invites his counterparts to contribute together in order to support the nomination of the prime minister of Kosovo, Hashim Thaci for the Nobel Prize.
Rama says that through a process necessary for the future and difficult for the past, prime minister of Kosovo showed vision and great determination in the best national interest and for a better world.
"The agreement struck between prime minister of Kosovo and prime minister of Serbia is like Baroness Ashton considers it, "a step farther from the past and a step closer to Europe", for both countries, therefore let us join to the promoters of this idea for this important contribution for Southeast Europe", says Rama.
For all these merits, the leader of SP, Rama proposes a joint group of MPs from all parliamentary groups in drafting the Letter of the Parliament of Albania addressed to the chairman of the Committee for the Nobel Prize, Thorbjorn Jagland, in supporting Thaci's nomination for this prize.
Prime Minister Rama demanded support from political groups in the European Parliament, in the Parliamentary Assembly of the Council of Europe, OSCE and other organizations, with which Albanian parties cooperate.
Thaci, Dacic and Ashton were proposed in December
Thaci, along with the nomination of the EU High Representative, Baroness Catherine Ashton and that of Prime Minister of Serbia, Ivica Dacic, are considered to be the actors of a historical agreement, which gives way to peace between the two countries of our region, putting an end to a series of long conflicts in the region where we live.
Thaci, Dacic and Ashton were proposed by several American senators and congressmen.
Based on the agreement reached in May 2013 with Serbia, Thaci is described as the personification of triumph of peace and reconciliation for the wars taken place in the '90s in the Balkan. Therefore, Brussels and Washington consider Mr. Thaci as Gerry Adams of the Balkan, who is taking the country to Europe.
Hashim Thaci, former fighter and commander of Kosovo's Liberation Army is prime minister and chairman of the Democratic Party of Kosovo, the biggest political force in Albania. The opposition and many non government organizations often accuse Thaci of corruption and passiveness in the integrating process.
A report of the European Council drafted by Dick Marty, mentions Mr. Thaci as the leader of a group which dealt with the trade of weapons, heroin and traffic of human beings during the war between Kosovo and Serbia in 1999. Mr. Thaci and the government of Kosovo considered these accusations as "abhorrent" and rejected them. Thaci comes from Drenica, from a family with long traditions of fighting against oppressing regimes in Kosovo. /ibna/