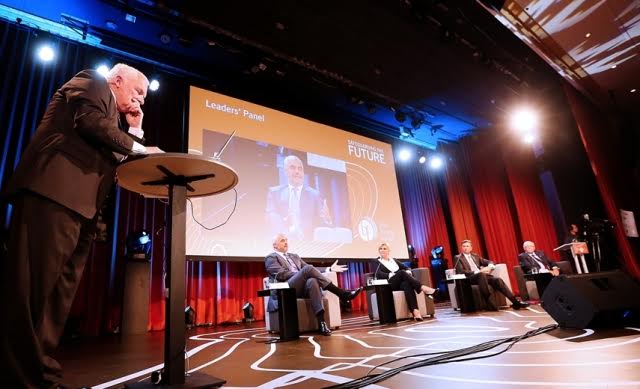 Tirana, 7 September 2016/Independent Balkan News Agency
By Edison Kurani
The Bled Summit in Slovenia is discussing many issues that relate to current affairs in the Balkans and the future of Europe.
At the peak of the debates on the most sensitive issue, that of refugees that come from war zones, the Albanian Prime Minister, Edi Rama launches lots of criticism against the European Union.
"It is impossible to resolve more and more global levels on a national level. We must realize that the sooner we head toward joint solutions, the sooner we reform our national institutions in order to adapt to changes that globalization has brought, the better it is", Rama said.
In a climate where the tendency to be secluded is seen as a solution, the PM underlined the recent refugee crisis to confirm his conviction that the contrary is true, that walls are not a solution, but that there's a need to reform and interact.
Meanwhile, this void is risking to be occupied more and more by extremist policies.
"On a national level, we are facing things which are more and more out of our reach and which must be controlled on a global level and need more interaction", Mr. Rama said.
Rama said that the countries where refugees arrive, must not suffer as a result of their geographical position. "Some richer European countries believe that everything depends on the geography and that due to their geographical location, Slovenia, Macedonia, Serbia, Croatia and especially Greece, must take all the refugees and due to their geographical location, some rich countries say "no". Where are the European values here?  What is the meaning of all this? They are wrong to think that by closing borders, they will not be affected. The opposite is true".
The Prime Minister considered rumors for an abandonment of the European project as a lack of vision on today's world. According to Mr. Rama, nobody can build a safer country at home if we are not connected.
"Those people who say 'let us leave Europe, let us go in our castle and be defended from the barbarians', they have no idea how to develop the economy in their castle. They do not consider the fact that the structure of the world and the nature of the enemy have changed so much. Thus, the problem doesn't relate to the fact that it is fighting an enemy outside of the castle's walls, but an enemy who is inside the castle. Nobody can build a safe country if we are not connected", Mr. Rama warned.
***
The Albanian Prime Minister was the main panelist in the Bled Strategic Forum along with the President of Slovenia, President of Croatia and Speaker of the Canadian Senate.
The Forum saw the participation of decision makers of different levels, politicians, security experts and opinion makers.
The Forum which was launched in 2006 to promote open dialogue on the current political, security and development challenges, debated on the approach of the countries and societies toward them. /balkaneu.com/