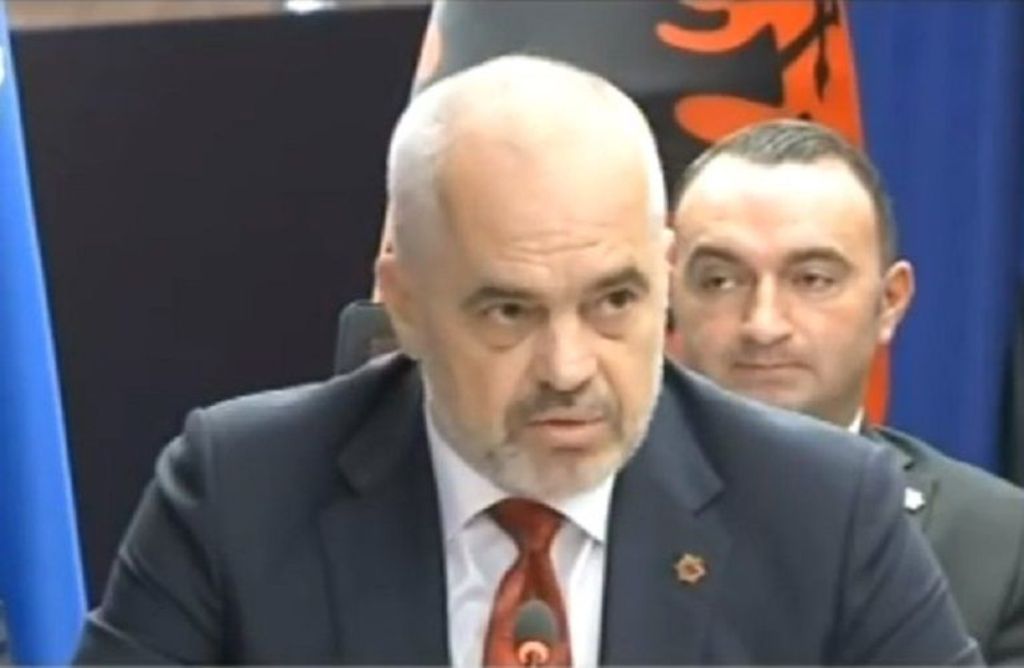 The Prime Minister has attacked the EU for using double standards. He denounced the delays that Albania is facing in the launch of accession talks and the delays Kosovo is facing in the process of visa liberalisation. He unfolds the scandal of EU officials when they asked the minister of Labour to strike the denomination "Republic of Kosovo" from his speech delivered in a joint meeting and reacts by saying: "What the fuck!" Lots of criticism against Serbia: It's showing three faces, damaging Kosovo and benefiting from the EU. An ambitious plan for the unification between Kosovo and Albania until 2025 is announced as part of the integration process
Prime Minister of Albania, Edi Rama chose Kosovo to express his "anger" about what he considers to be the unacceptable way the EU is proceeding with Albanians of Kosovo and integration processes.
Yesterday in Pec, Rama was very hard on the EU and Serbia too, after pointing out several problems which showed how Brussels and Belgrade were using double standards with Pristina.
Rama considered EU officials as "two faced people.
Rama's statements were initially made during the fifth joint meeting between the government of Albania and the government of Kosovo which was held in Pec and which saw the signing of 9 agreements and protocols of bilateral cooperation. Rama was also hard on the EU during the press conference that followed the meeting.
Rama said that "we're disappointed from the approach of the European Union and all those other states that helped Kosovo to declare its independence who are not helping the citizens of this country to move freely".
Rama also criticized the fact that Kosovo was not accepted as member of Interpol and blamed Serbia for this. Meanwhile, he said that the 100% tax hike on goods imported from Serbia is not a trade war, but a political decision, "which is completely normal in the face of an irrational behaviour that Serbia is manifesting".
Rama also denounced a shocking fact: "Kosovo's Minister of Labour and Social Affairs was telling me last night how when he was in Belgrade, European envoys had tried to convince him until 2 in the morning to strike the denomination "Republic of Kosovo" from the speech that he would deliver the following day in a joint meeting where Kosovo would participate with the good will to sign a joint declaration in the path toward peace and regional cooperation".
Then Rama burst out in anger by saying: "What the fuck!" the EU would say to that.
The Prime Minister considered this as outrageous, adding that the minister was kept "until two in the morning, being pressured in English and Serbian in order for him to strike 'Republic of Kosovo' from his speech".
Rama also stopped on what he considered to be as double standards that the EU uses with Albania and Kosovo, when he announced the plan for the unification of Albania and Kosovo by 2025, adding that this unification comes as part of the EU integration process.
"EU officials should not act as two faced people with Kosovo and Albania. They keep promising to Albania that its accession talks will start soon, while Kosovo is being promised that the visa regime will be lifted soon. At the meantime, Serbia continues to open chapters and is achieving
a lot by showing its three faces, meanwhile, we're only showing one face", Rama said.
***
Rama said that the use of double standards in the region and the EU should come to an end. "Time has come for us to see things as they are and for us to do things like we want to do them.
And this also goes for our Serbian neighbours and the entire region. We don't want to hear a lot of fairy tales and our European friends should not ask from us more than we can handle, while Serbia continues to be pampered in an unacceptable way".
Foreign ministries of both countries will start working on an analytical and a strategic document; Albania, Kosovo and the path to the union of Albanians by 2025
 ALBANIA AND KOSOVO'S UNION BY 2025
Zero tarifës, zero non-tariff barriers by the first six months of next year between Albania and Kosovo.
This is only a short term plan, because the long-term plan foresees a union between the two countries as part of the EU integration efforts.
In yesterday's meeting held between the two governments in Pec, Rama and Haradinaj announced the decisions that were made.
The main decision that was taken is a challenge for Serbia, according to Rama: "Time has come to introduce 100% tariffs in the north and scrap all tariffs in the south of Kosovo".
Rama also announced a customs union plan: "A transit customs point for Kosovo on January 1 at the Port of Durres and other steps will follow within the next six months which will all lead to a customs union".
The Prime Minister said that "whoever considers this as a threat, be that in Belgrade or Brussels, is welcome to come and sit down with us and we will explain how this is not a threat, but an invitation to follow the example of this collaboration. Serbia is the first one who should follow the example of this collaboration".
Within the first half of next year, there will be no tariff barriers and no non tariff barriers between the Republic of Albania and Republic of Kosovo.
Meanwhile, the two governments have also approved the agreement for the mutual recognition of drivers' licenses.
Another challenge imposed on the international community concerns roaming. "Serbia goes in the opposite direction of what it's considered to be as the path toward the future, by excluding Kosovo from the roaming agreement and forcing us, Albania and Kosovo, to remove roaming charges within the first half of next year. Given that they do not want us to be part of their roaming agreement, then we will make our own agreement and within the first six months of next year, Albania and Kosovo will have their roaming agreement".
Meanwhile, the two governments have also decided to make Morina border crossing point a unified crossing point, which would make the movement of people and goods much easier.
***
The PM said that all of this "will act as an important message for all partners and Serbia above all".  Confirming that Albania's relations with Serbia are strategic in the long term, Rama announced that "if Serbia sees this as a unilateral need, then it's mistaken", while stressing: "Serbia needs to choose which face it will use in its relations with Albanians and we're ready to show whatever face that Serbia will choose".
***
Rama announced the setting up of a fund for the two foreign ministries of both countries "will start working on an analytical and a strategic document; Albania, Kosovo and the path to the union of Albanians by 2025"
Here, Rama explained: "A demographic, economic and social document of the political systems".
Rama admitted that there will be reactions when he said that: "I know what people in Belgrade or in any other place will say, but I think that the union of Albanians is a necessity in the path toward European Union and the European Union should put an end to the use of double standards".