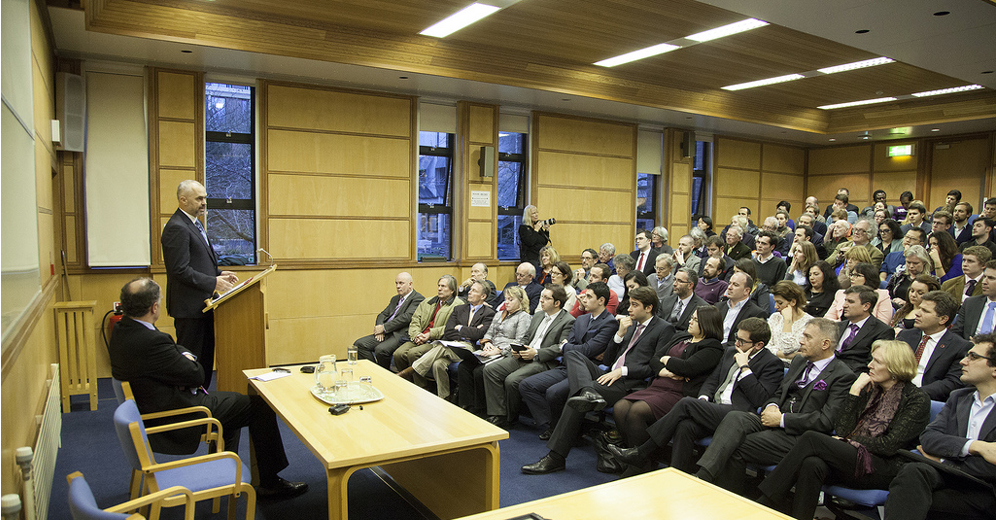 London, February 25, 2014/Independent Balkan News Agency
Albanian PM, Edi Rama says that his government's vision is that for a European future of the entire Balkan, not only in geographical terms, but also in terms of its values.
"Europe is not a destination outside our reach. Europe must be and is a destination within our reach", said Mr. Rama.
Mr. Rama made these declarations today (25.02) in London (photo) where he addressed a speech to a group of students from the University of Oxford, in relation to the developments in the Balkan and the perspective of this region in the European Union.
Rama also stopped on the reasons why Balkan needs a stronger EU.
"The first and most important reason why Balkan needs a stronger EU are the values on which Europe was founded and what those values represent today", said the prime minister.
Rama presented European integration as the main pillar and major priority of Albania's foreign policy. He underlined that the Albanian government considers this process as a domestic challenge, to build in the country these values that Europe represents.
"We're determined to take all necessary measures in order to be granted the candidate status. We will work hard, bearing in mind that EU integration is not just a destination, but a set of values and standards which we must built in the country", said prime minister Rama.
With the conviction that European integration is the future of the Balkan, the prime minister stressed that a successful cooperation between its countries is a key factor for a successful European integration.
"I'm aware that we cannot be alone in this journey. I know that regional cooperation is a key factor in the process of integration and to assure a successful integration and to contribute for the future of EU, we must be determined in working as hard as possible with all neighbors", said prime minister Rama. /ibna/