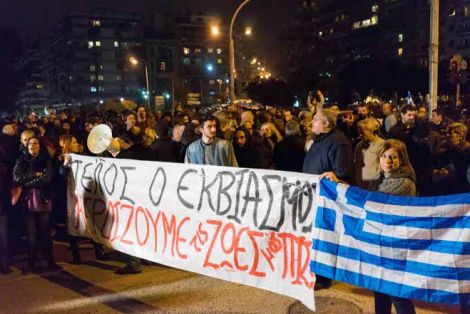 Greece, February 6, 2015/ Independent Balkan News Agency
By Spiros Sideris
Rally in favour of the government's position in the negotiations with its European partners was held at Syntagma Square. Corresponding rallies took place in front of the White Tower in Thessaloniki, Patra, Chania and Heraklion.
In Athens, the bulk of the protesters (about 8,000 people) had gathered at Amalia street, which was closed to traffic from Xenophon to Vassilisis Sofias.
Participated citizens, civic organizations, school guards, cleaning ladies of the ministry of Finance etc. It should be noted that there was no police presence.
Hundreds of people gave participated at the rallly that took place in the White Tower of Thessaloniki. Hundreds of people gathered in George's square in Patra, writes the Patra Times, while a gathering was held in the square of the municipal market of Chania. Greeks living in Paris rallied in Plas Palais Royal.
The calls were sent by users of Facebook, sending the message: "No blackmail. Not succumb. We are not afraid. We do not back down. We Win".
"On Wednesday 4/2 evening, the head of ECB Draghi chose once again to play the game of Merkel and blackmail the Greek people and the new Greek government. We will not succumb to blackmail again", says on page created on Facebook and stresses:
"Neither we, who for the last five years have been living under the yoke of the memoranda, nor the Tsipras government which took over a few days ago and honors the mandate given to them by the Greek people. We are not afraid of no one. The Republic spoke and no one has the right not to listen".
"We go down to Syntagma and other country squares on Thursday 5/2 at 18.00 and for as many other days it will be needed, in order to send the message to those who think that they have us at the palm of their hand, that they have not understood something well", they point out and conclude underscoring:
"The era of a kneeling Greece and submissive governments is over. We support the firm attitude of our government. We send our solidarity to all the peoples of Europe who expect from Greece to send a message of dignity and the end of austerity".