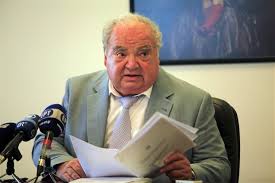 Athens, October 9, 2015/ Independent Balkan News Agency
By Spiros Sideris
"Corruption is widespread in Greek society and to combat it requires above all political will, something that does not exist. Its cost amounts to 33 billion per year, so if for 10 years we did not have corruption we would wipe out the national debt."
These words belong to the most competent person on the issue, the General Inspector of Public Administration, Leandros Rakintzis, who in a public debate yesterday evening talked about his experience on the subject and recounted some of the most characteristic cases of maladministration, lack of transparency and irregularities in the public sector which he has encountered so far in his 11-year term.
On the current issue of corrupt civil servants, Leandros Rakintzis sketched their typical profile, mentioning that they are usually people of higher education, close to retirement, holding positions at high levels of the hierarchy, mostly managerial. Thanks to their posts they have economic power, so when they are accused of corruption and are brought before a court, they entrust their cases to the best and most expensive lawyers, who often get them acquitted.
Due to the economic crisis, he said, corruption levels have dropped and relative "costs" have also been reduced. The so-called "fakelaki" (envelope full of money) is a characteristic example. Before the MoU with creditors were signed, doctors demanded as much as 5.000 euro payments from patients on the side, while today the amounts they demand has fallen to 300 euros.
Doctors, however, are involved in cases which cost human lives, are a burden on pension funds, while others invent cheap excuses to slip away from the Law. Specifically, Mr. Rakintzis noted the case of a surgeon who managed to become a heart surgeon using a fake letter of recommendation by Magdy Yakoub. He aroused suspicion and was finally fired when the patients that died in his hands were triple the average number of his colleagues.