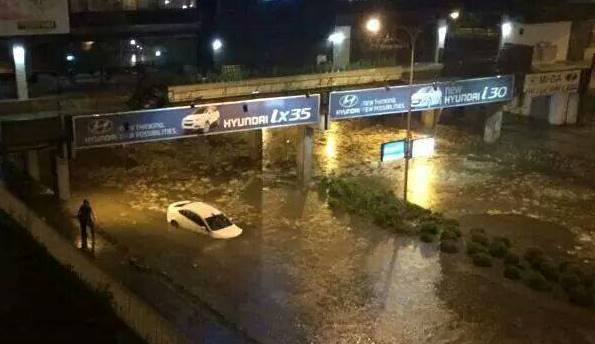 IBNA Special Report/The early hours of this week found Skopje under the effects of a bad weather, which has flooded many parts of the city. As if the storm was not enough, a strong earthquake was felt just before midnight. Many people are worried that floods in Serbia, Bosnia, Croatia, etc., and the earthquakes in Albania, Greece, Turkey, Montenegro are causing a chain effect in the Balkan region.
Skopje, May 26, 2014/Independent Balkan News Agency
By Naser Pajaziti
The heavy rains have caused floods in the capital, Skopje, where cars that were in motion, remained blocked in the water. Many cars were blocked by water in several streets of the central part of the boulevard under the bridge that links the Old Quarter of Skopje and the Centre and also several other parts in the central part of Skopje.
Police patrols have reacted, by stopping circulation in blocked roads and by allowing circulation in safe roads.
Lots of people have reported the flooding of their homes, basements and other objects.
"I'm worried and I can barely remember the last time that I've seen the sort of heavy rain which fell in those 24 minutes. My home has been flooded and I appeal for help. I don't know if we are suffering the same cataclysm that Serbia and Bosnia suffered", says Ivan R., from Skopje.
The Weather Center reported that 37 liters of rain fell on a 1 square meter area.
From rain to earthquake
While the rain caused floods in Skopje, the metropolis was also struck by an earthquake. The Seismic Observatory at the Faculty of Mathematics and Nature in Skopje informed that an earthquake with its center in Skopje, was registered around 11.05 pm.
The earthquake was of a 5.6 magnitude in the Richter scale.
The tremors terrified the residents of the capital, a part of which spend the night in open air.
The government and local authorities of Skopje have held an urgent meeting in the early hours of Monday in order to assess the situation.
A  crisis committee led by the minister of Transport and Telecommunication, Mile Janakievski has also been appointed.
Mr. Janakievski says that there's coordination with the municipality of Skopje and the assessment of damages from the bad weather has started.
"So far, there have not been wounded persons. There are material damages and defects on the energy, gas network and other damages which will soon be repaired. Teams from the local and central government for the management of crisis will be on field to take all measures in order to bring back normality", said minister Janakievski.
The Weather Center has reported a sunny weather with temperatures from 24 to 31 degrees Celsius today, but rain is also expected during the hours of the afternoon.
Rains and the earthquake have become a topic of discussion for people. Citizens of Skopje and other areas are worried that the 'cataclysm" that engulfed Serbia, Bosnia and Croatia may come. Many people fear that floods in Serbia, Bosnia, Croatia, etc., and earthquakes in Albania, Greece, Turkey, Montenegro, are producing a chain effect in the Balkan region. /ibna/