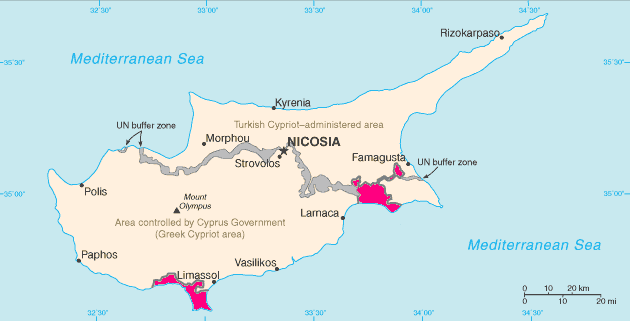 By Thanasis Gavos – London
The Middle East crises of recent years have latently yet undeniably reminded the world of the importance that the Cyprus bases have for the United Kingdom.
As the first RAF Tornado jets lifted off from Norfolk in East Anglia to fly to Akrotiri in order to be included in the British operation in Iraq, the British government was approving the deployment of Chinook helicopters as well, in order to use them as an extra aid in the efforts to save a quarter of a million Christians and others fleeing fighting in northern Iraq.
The Tornados, six or eight in total by the time of their full deployment, will utilise their special equipment that allow for surveillance and infrared photographs of the areas where humanitarian aid is dropped by two cargo C-130 Hercules aircraft –also now stationed in Akrotiri.
The Chinooks will also be sent to Cyprus at first, before probably moving on somewhere nearer to Iraq, such as southern Turkey.
Downing Street has repeatedly rejected any notion of the aircraft mission involving any kind of British active military involvement in Iraq, on the side of the United States. However, Prime Minister Cameron is under pressure by politicians and military to break the summer recess and recall Parliament in order for the situation in Iraq to be discussed.
This discussion would most probably deal with calls for the UK to engage itself in fighting the Islamic State jihadists, a scenario dismissed for the time being by Downing Street and the Foreign Office.
Yet, should things in Iraq reach new extremes a British military engagement could not be ruled out. In such a case Cyprus would feature prominently in the British action plan.
RAF Akrotiri was where fighter jets were stationed last year at the height of the Syrian crisis, when an attack from Bashar Al-Assad's regime was deemed possible.
For a country that feels it is its right and duty to be present in all major crises, especially if they relate to its strategic interests as every Middle East crisis does for the UK, the RAF bases in Cyprus are indispensable.
The British government has officially said that it would stand ready to cede half the territories of the bases in the event of a comprehensive solution over the Cyprus issue. But London would certainly try to make sure its operative capability in such a crucial region of the world was not hampered by any concession.
Until then Cyprus and its politicians should get used to hearing about the island in connection with British military operations during Middle East crises.