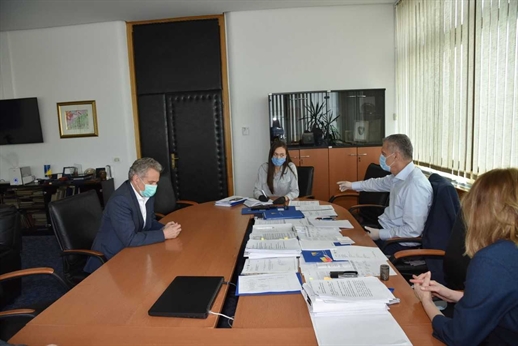 Minister of Security of Bosnia and Herzegovina, Fahrudin Radončić, at separate sessions, met today with Head of the EU Delegation and EU Special Representative for BiH Johann Sattler and US ambassador to BiH, Eric Nelson.
Radončić and Sattler stressed the importance of the role of the European Union and the European Commission and its willingness to assist BiH and its citizens in these difficult times that the country and all its citizens are facing.
Ambassador Sattler emphasized the importance of responding as effectively as possible to the medical aspect of the crisis, but also the urgent need to prepare economic and social programs to repair the economic damage that BiH, similar to what the other countries struck by the pandemic will have to cope with.
The interlocutors agreed that any assistance and its spending should be as transparent as possible, and Radončić, as Chairman of the BiH Coordinating Body for Protection and Rescue, emphasized that EU expert assistance would be very valuable.
Ambassador Sattler finally stressed the importance of more humane treatment of migrants, for example when it comes to the tent settlement at the Lipa site near Bihać, the BiH Ministry of Security said.
Radončić also met with the US Ambassador to BiH Eric Nelson to discuss the challenges posed by the coronavirus pandemic and the most effective response from BiH authorities, said Ministry of Security in statement.
Ambassador Nelson emphasized the importance and necessity of even faster response and transparency of the work of all institutions, from which citizens expect even greater coordination and depoliticization in these extremely difficult times for BiH.
The BiH Minister of Security briefed Ambassador Nelson on the situation and thanked for the interest and assistance the US Embassy in Sarajevo provides to citizens, the BiH Ministry of Security announced./ibna