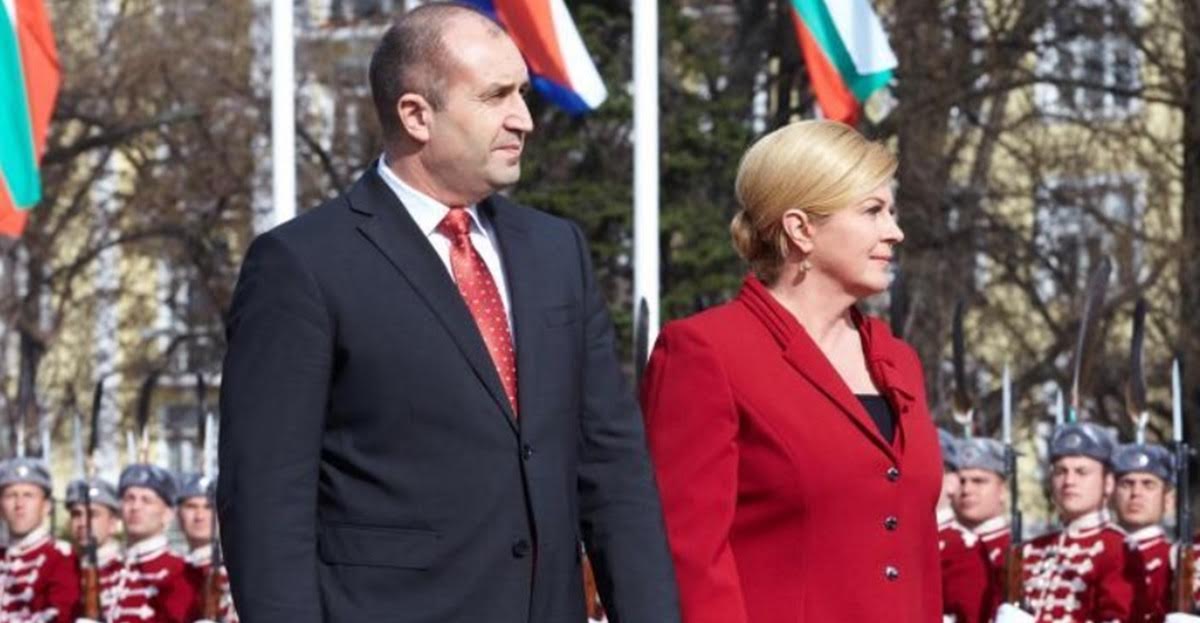 As holder of the Presidency of the Council of the European Union, Bulgaria should pursue a policy of dialogue and balance, President Roumen Radev said on April 4 in a comment on relations with Russia.
Speaking at a joint news conference in Sofia with his Croatian counterpart Kolinda Grabar-Kitarović, Radev said that Bulgaria was a loyal member of the EU and Nato.
Radev, who was responding to a question about the case of the nerve agent poisoning in Salisbury in the UK of double agent Sergei Skripal and his daughter Yulia, said that "in order to take further action, we need clear and indisputable evidence".
On March 30, a meeting of Bulgaria's Cabinet national security council, attended by a representative of the president, decided against expelling Russian diplomats from the country.
At the talks between the two heads of state, Grabar-Kitarović said that Croatia would continue the policy of giving priority to the Western Balkans when it holds the rotating presidency of the EU in the year 2020.
Radev and Grabar-Kitarović agreed that Bulgaria and Croatia share many common priorities on the EU agenda and will continue to actively cooperate on important issues such as social and economic cohesion between the "old" and "new" member states, the future of Europe, and the enlargement process.
The two presidents agreed that the only way to overcome the open issues between the Western Balkan countries was to continue dialogue and they called for an unwavering commitment on the part of the EU to the future of the region.
Bulgaria had managed to bring the EU's focus back to the Western Balkans, Radev said.
Grabar-Kitarović said that her country favoured EU and Nato membership for all its neighbours once they meet the requirements.
"I am a little frustrated by the events of the last few years. The process has been delayed. On the one hand, there is enlargement fatigue, and on the other hand, there is reform fatigue." The national reforms required for EU membership need a fresh impetus, Grabar-Kitarović said.
She added, however, that through last messages from Jean-Claude Juncker, President of the European Commission, and leaders such as French President Emmanuel Macron, have gained more positive outlook on the enlargement around whose process it is "extremely important to keep the momentum".
She said that Bulgaria and Croatia together stand for the European perspective of Southeast Europe to ensure the security, stability and prosperity of all neighbouring countries.
"We are currently concerned about the situation in southeastern Europe because a vacuum is unfortunately opened up by some third parties that have different interests, and that is why a strong policy of expansion or consolidation is needed in this area and this will certainly be one of the priorities of the Croatian Presidency of the Council of the European Union," Grabar-Kitarović said…. / IBNA