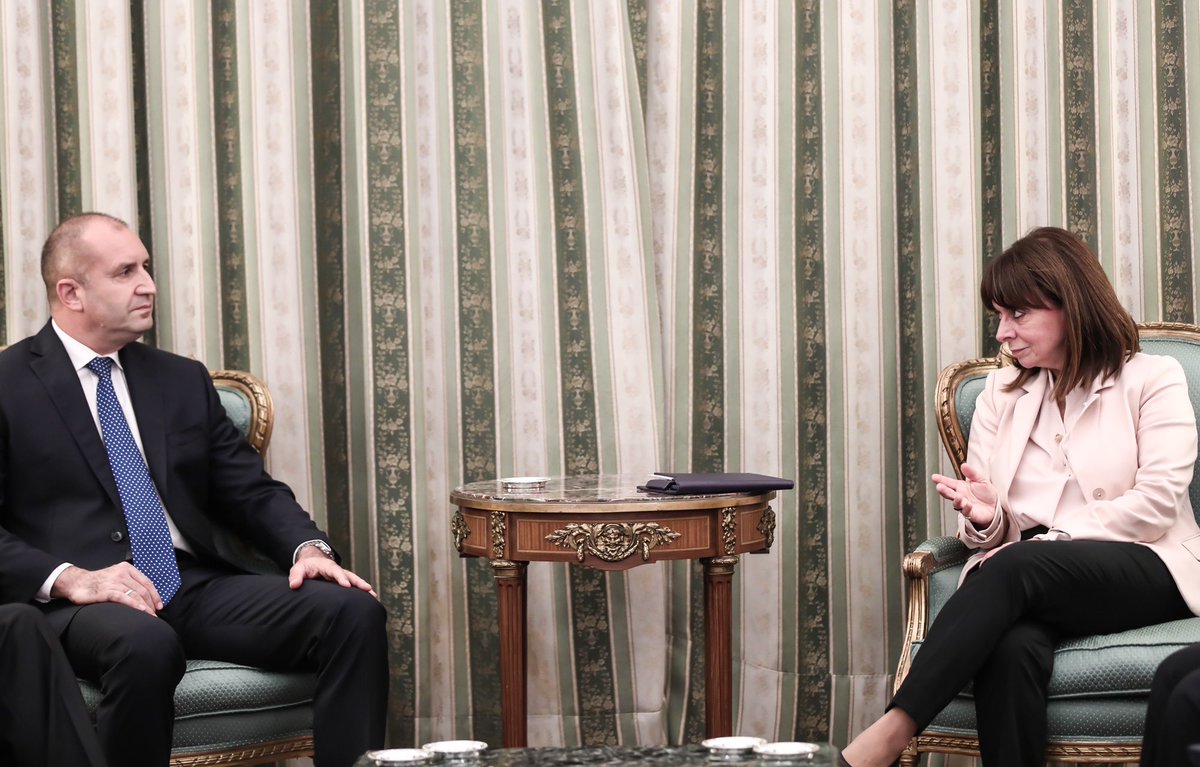 "Bulgaria and Greece constitute not only axes of stability, but also an example that there can be peace, good neighborliness and fruitful co-operation in the Balkans", Bulgarian President Rumen Radev said during a meeting with his Greek counterpart Katerina Sakellaropoulou in Athens.
The President of Bulgaria paid an official visit to Greece on Wednesday, one year after his last visit to Athens in October 2019. Rumen Radev met with his Greek counterpart and with Greek Prime Minister Kyriakos Mitsotakis.
During his meeting with Katerina Sakellaropoulou, Rumen Radev congratulated his Greek counterpart on assuming her duties, expressing Bulgaria's desire to further deepen political dialogue at the highest level and develop friendly relations between the two countries.
The current challenges both Greece and Bulgaria are facing must be regarded as challenges for the entire European Union. The essence of the European Union lies in its solidarity, stressed Rumen Radev. According to the President, future challenges highlight as a common task the maintenance of the single European area of ​​values, cultural, social and economic achievements.
The Bulgarian President congratulated the President of the Hellenic Republic on the success of Greece in attracting strategic investors in the field of information technology, underlining that this field is particularly promising in bilateral cooperation. According to Rumen Radev, Bulgaria has experience and expertise in the sector of information technology, which cultivates favorable opportunities for the implementation of successful joint projects.
The momentum of the Three Seas Initiative for transport, energy and digital connectivity in Eastern Europe was also one of the highlights of the two Presidents' meeting.
Rumen Radev invited Katerina Sakellaropoulou to visit Bulgaria when conditions allowed it.
Afterwards, the Bulgarian President met with the Greek Prime Minister Kyriakos Mitsotakis, with whom he discussed the prospects for the development of the strategic partnership between the two countries, the promotion of mutual investments and cooperation in the field of security.
The two men shared a private hour-long meeting. There was consensus that the fight against illegal immigration and terrorism, as well as the overcoming of security challenges unfolding in the region require a common European approach based on solidarity and common values.
Energy, transport and digital connectivity in Southeast Europe are important not only for the region, but also for the entire European Union, stressed Rumen Radev and Kyriakos Mitsotakis. The two discussed the necessary conditions and reforms to modernize and attract strategic investors. In this context, the President of Bulgaria congratulated Kyriakos Mitsotakis on Microsoft's decision to invest $ 1 billion in Greece to establish a regional data center. By 2025, this investment is expected to create tens of thousands of jobs in Greece. Rumen Radev expressed hope that the cooperation between the two countries in the field of information technology and digitization would continue.
Rumen Radev and Kyriakos Mitsotakis also discussed the EU enlargement process and the European perspective of the Western Balkans.
During his visit to Athens, the Bulgarian President will give a lecture at the European Public Law Organization on "Universal Human Values ​​and the Rule of Law-Pillars of European Development". /ibna