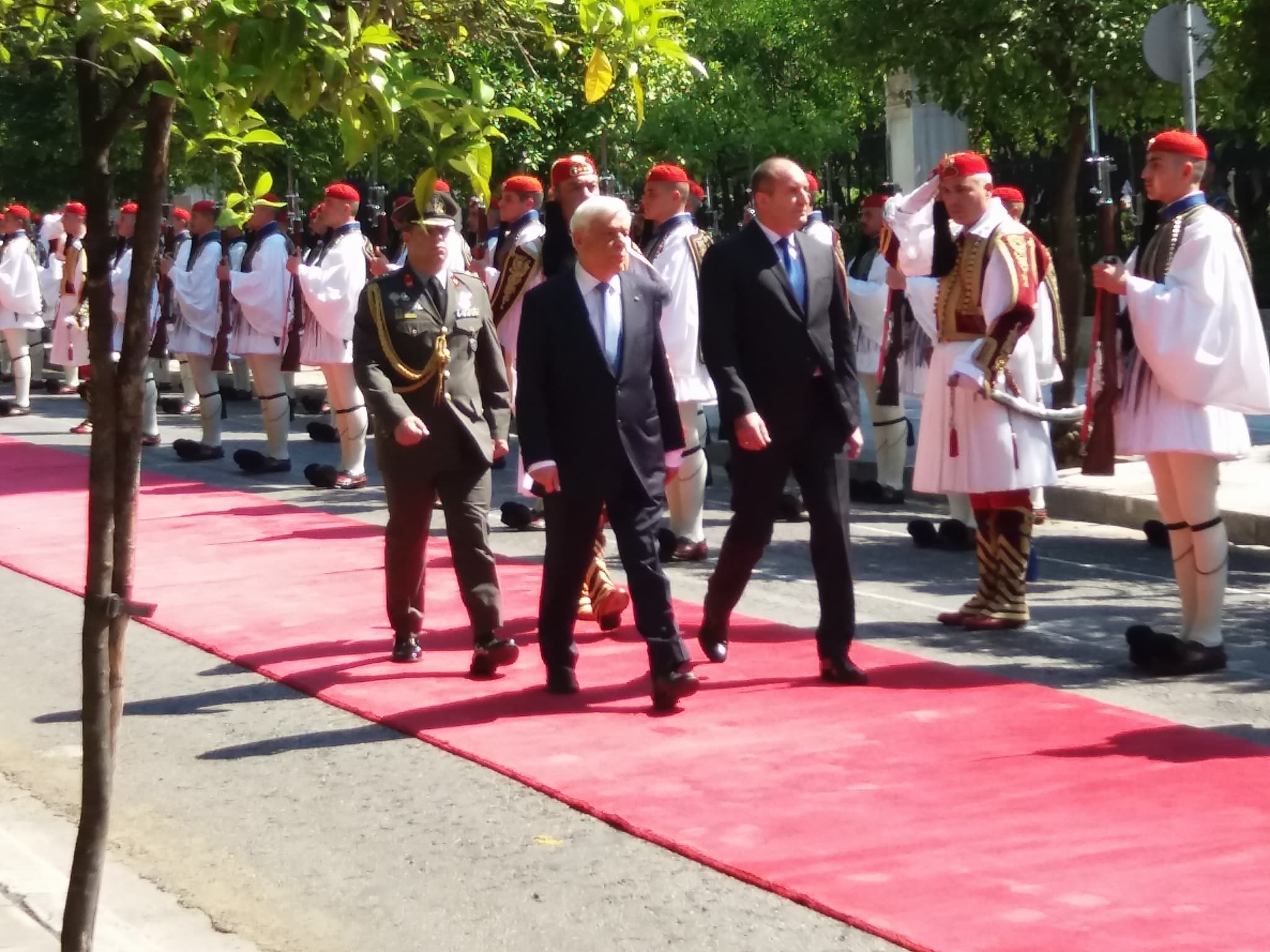 Bulgaria and Greece will continue to work together in the interests of a stronger and more stable European Union because this is the future of Europe, and will continue to support the process of European integration for their neighbors in the Western Balkans, the countries' presidents agreed in talks in Athens on June 23.
Bulgarian head of state Roumen Radev held talks with his Greek counterpart Prokopis Pavlopoulos during Radev's first official visit to a South Eastern European country since becoming president in January.
Regarding the European integration of the Western Balkans, Greek president Pavlopoulos emphasised that a prerequisite for this support was that "our neighbors should show respect for international law, European achievements, and history that is proof of good neighbourly relations".
Radev said that he shared this view."They must meet the criteria for membership and something very important for the Balkans – good neighborly relations and mutual respect for history must be a prerequisite for the start of membership talks".
"Bulgaria and Greece are linked by a strategic partnership both bilaterally and within the European Union and Nato. Both countries can be an example of good neighbourly relations in the Balkans based on common European values," Radev said.
Bilateral trade between Bulgaria and Greece reached three billion euro in 2016 and both countries will continue to promote business contacts, the Bulgarian president said.
"The development of energy and transport links is essential for increasing trade and tourism," Radev said.
The construction of an interconnection linking the gas networks of Greece and Bulgaria is of importance not only for Bulgaria but also for the region, he said.
Radev called for this project to be implemented within the envisaged timeframes, which will allow the diversification of the sources and the routes for natural gas transmission to Bulgaria as well as to the countries of Central and South Eastern Europe.
Pavlopoulos underlined the importance of the fact that the first visit of the Bulgarian head of state Rumen Radev was to Greece and confirmed his country's support for Bulgaria's accession to the Schengen area.
"This is of particular importance to Bulgaria, because only in this way can we guarantee an effective fight against the illegal trafficking of people and against terrorism. It is high time for this to be understood by other EU member states," Radev said.
During his talk with President Pavlopoulos, President Radev outlined the efforts of the two countries to tackle illegal migration, the fight against terrorism and the strengthening of the co-operation between the Bulgarian and Greek Armed Forces as a key factor in ensuring stability in the region, a statement by the Bulgarian President's office said./IBNA