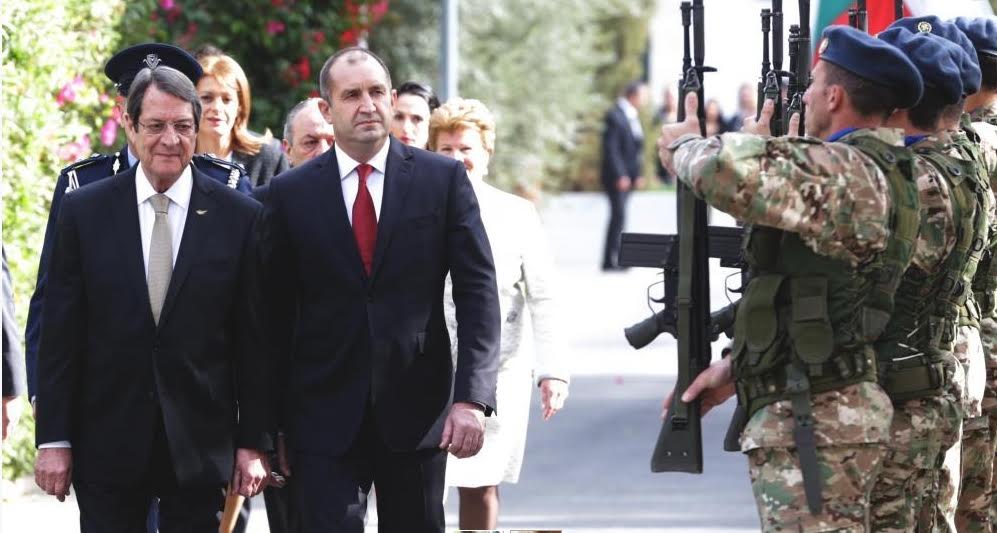 Bulgaria and Cyprus have signed a memorandum of co-operation in the field of shipping and a three-year programme for co-operation in culture, education and science.
The signing, by Bulgarian Deputy Foreign Minister Emilia Kraleva and Cypriot Minister of Agriculture, Rural Development and Environment Nicos Kouyialis took place during a two-day visit to Cyprus by President Roumen Radev.
The excellent political dialogue between Bulgaria and Cyprus is a natural continuation of the long-standing cultural and historical ties and the shared values ​​of the EU member states, Radev told a joint news conference with Anastasiades.
Radev briefed Anastasiades on Bulgaria's priorities for its EU Council Presidency in 2018.
"I am confident that Bulgaria's priorities are common to both countries. Finding consensus in the dynamic times we live in is important for the European Union to be united and strong," Radev said.
He thanked the Cypriot institutions for their willingness to share their experience from their successful European presidency in 2012.
Promoting the competitiveness of individual European countries and the European Union can only be achieved by endorsing Cohesion Policy as a factor for economic growth, the two presidents said.
"We need to stand up for the Cohesion Policy because there can be progress in Europe only when we share a common goal of equalising the standard of living and working conditions for all citizens," Radev said.
He called for new business support measures to promote bilateral trade, that reached 200 million leva in 2015.
Anastasiades expressed appreciation for the contribution that the Bulgarian community in Cyprus has made to the economic development of the country.
Radev and Anastasiades agreed that the projects for diversification of sources and routes for the transfer of energy resources in the region are in the interests of security and development and require the united efforts of all South Eastern European countries.
Anastasiades expressed confidence that Bulgaria will be a worthy leader of the discussions during its Presidency of the Council of the EU.
"Bulgaria and Cyprus have expressed their belief in United Europe, based on the founding principles of democracy and co-operation. Both sides share common positions on key issues, including energy, migration, and policies to boost economic growth," Anastasiades said.
He added that Bulgaria has Cyprus's support for establishing good neighbourly relations and expanding co-operation with the countries of the Western Balkans. "
I express the deep appreciation of the whole Cypriot people for Bulgaria's active support for the Cyprus issue," the Cypriot president said.
Radev expressed his support for Cyprus's efforts to strengthen peace, stability and cooperation in the regions of the Eastern Mediterranean, the Middle East and North Africa within the various political dialogue formats…/IBNA
Text photos: pio.gov.cy