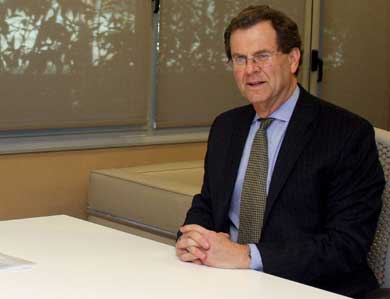 By Tom Ellis
"Peddling xenophobia, racism and anti-Semitism is not the path to a restored and vibrant Greece," says David Harris, executive director of the American Jewish Committee (AJC), in an interview with Kathimerini, in which he expresses concern about the growing influence of Golden Dawn, the neofascist party elected to Greek Parliament last summer.
Harris talks about the growing interest of US investors in Greece and stresses that Washington welcomes the ever-closer cooperation between Greece, Israel and Cyprus in the area of energy.
The AJC chief also talks about Washington's ties with Ankara and US diplomatic efforts to improve ties between Turkey and Israel, which became strained following a 2010 Israeli raid on a Gaza-bound aid flotilla, in which eight Turks and a Turkish-American were killed.