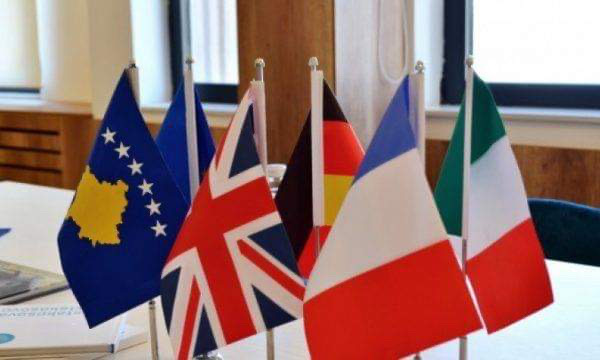 Ambassadors of Quint (France, Germany, Italy, the United Kingdom and the United States) in a joint press release on Tuesday stated that they do not support a particular party or candidate in the 6 October election in Kosovo.
"We represent nations deeply committed to a democratic and independent Kosovo.  Any suggestion that our governments support a particular party or candidate in the election is incorrect. As in past elections, we will join with other local and international bodies to help ensure a free and fair environment," it is written in the press release.
According to Quint the upcoming election is a crucial opportunity for the citizens of Kosovo to decide the direction of the country.  "Kosovo citizens deserve the promise of a peaceful, prosperous future, and the only way to secure this future is through the will of the Kosovo people expressed in these elections", they state.
"We urge you to rise above populist and nationalist rhetoric, which will not help Kosovo. Coming out of these elections, Kosovo needs leaders with detailed ideas on how to achieve citizens' demands, and a government that can credibly deliver.  Kosovo citizens deserve to hear detailed platforms from parties, so that they can make informed voting decisions," the statement reads.
Early general election re set to be held on 6 October, and the Quint members several times have emphasised that they expect new Government of Kosovo resume the dialogue with Serbia, halted in November 2018. The Ambassadors of Quint stated that to reach a deal, Kosovo's next government will need flexibility to negotiate and the ability to articulate a positive vision of the country's future relationship with Serbia, and the economic and security benefits it can bring to Kosovo.
Also the US Embassy in Pristina in a separate press release clarified that the U.S. government does not endorse or support any political party or candidates in this week's election. "We respect the right and responsibility of the voters of Kosovo to choose their future," the statement reads. The US Embassy reaction came after media on Monday reported that US President Donald Trump's man will come to Kosovo to support Kadri Veseli in his election race for prime minister nominated by the Democratic Party of Kosovo (PDK). On Tuesday media reported that former US Acting Attorney General Matthew Whitaker arrived in Kosovo and joined Veseli's campaign. In an interview with local media Whitaker said that he arrived inKosovo as part of a tour in the region. He told news agency KosovaPress that Veseli is the right man in fighting corruption./ibna