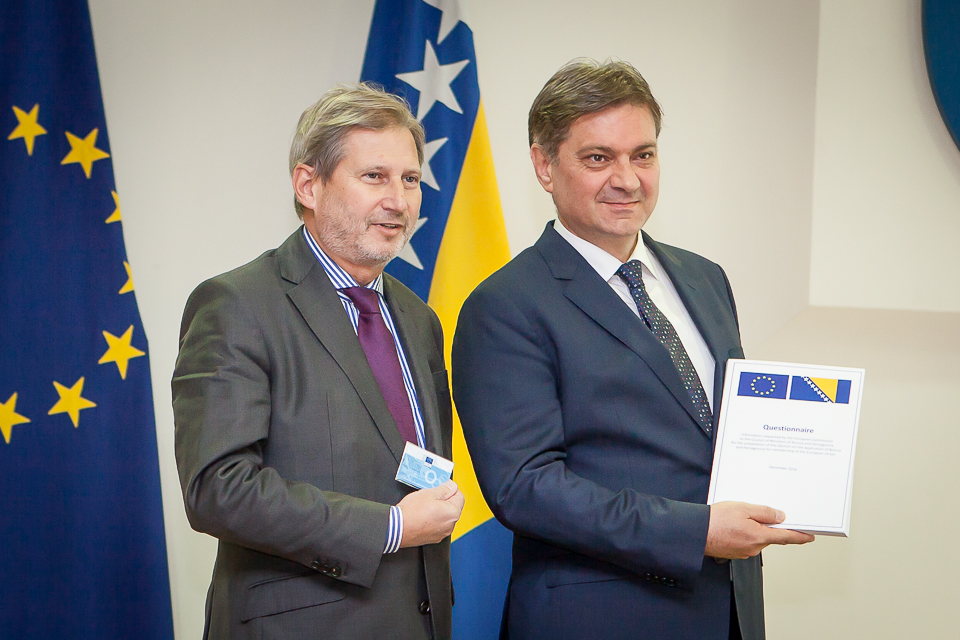 Commissioner for European Neighbourhood Policy and Enlargement Negotiations Johannes Hahn handed over the European Commission's Questionnaire to Chair of the BiH Council of Ministers, Denis Zvizdic, on Friday in Sarajevo.
This act was announced several months ago and now BiH finally can say that it's path to EU is visible. All BiH institutions had enough time to prepare to answer questions from this document, but everybody knows that it will be a difficult job.
Commissioner Hahn's visit to BiH follows the submission of the application for EU membership by BiH in February 2016 and the green light the Council gave in September 2016 for the Commission to prepare the Opinion on the membership application. Hahn reiterated the commitment of the European Union to support the country's EU perspective.
"This whole process can be a real game changer for the future of Bosnia and Herzegovina because now the country can be assessed against the same standards that apply for EU Member States", Hahn said.
He noted that the Reform Agenda implementation is on track, that the Protocol to the Stabilisation and Association Agreement will be signed soon and that the coordination mechanism has been adopted, which will be crucial to the process.
Chairman of the BiH Council of Ministers, Denis Zvizdic, said after meeting with Hahn that the arrival of this document to BiH is one of the most important dates in the European integration process which began 16 years ago.
"This represents a kind of finale of a very important phase, a phase to which we came through a very persistent, consistent and hard work and commitment from all levels of government in BiH. The questionnaire is so far the most comprehensive, the most complex task that BiH institutions have", Zvizdic said.
He stressed that nothing before and nothing after this questionnaire will have that level of complexity and the required level of responsibility and coordination between all levels of government as a matter of the Questionnaire.
Zvizdic also noted that the questionnaire consists of 33 chapters and will soon be officially released.
During his visit to Bosnia and Herzegovina, Hahn also met with the Presidency of Bosnia and Herzegovina, the Minister of Foreign Affairs of Bosnia and Herzegovina Igor Crnadak, and representatives of the Entity governments.
There is no deadline for answers from the Questionnaire but most politicians consider it is possible to have it completed by March next year. BiH however, may have problems answering even the most rudimental of questions, which happens to be the first one in the quesionnaire: "How many citizens live in BiH?", since the census results are disputed by the government of RS.