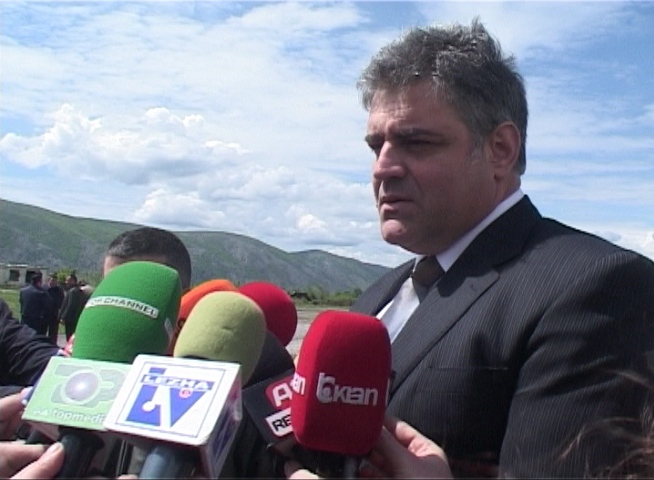 IBNA Special Report
In the climax of debates on suspicions that the Albanian army has been used for the international drug trafficking, the ministry of Defense gets out on field in order to prove that the accusations are groundless.
Vice minister of Defense, Dritan Hila, accompanied by the commander of Armed Forces, brigadier general, Frederik Beltoja, was today in the Gjader Air Base (photo).
This is one of the military bases which is mentioned by opposition MPs for alleged involvement in the drug traffic.
Vice minister Hila said that the Albanian army's bases, including the location alleged to be have served for the air transport, namely Gjader base, are under state control.
"Here it's technically impossible. The field is filled with wastes and it hasn't been used for a while".
The Albanian air force is observed by the allies, Italy and Greece. Following the NATO accession, our air space is also patrolled from NATO structures.
"The entire information goes to the allies and is processed by them. One must have a lot of fantasy to say that drug trafficking is made and that ministry of Defense has corrupted Brussels, Italy and Greece", says Mr. Hila.
But, several opposition MPs launched declarations today. Former prime minister Sali Berisha said: "I take full responsibility when I declare that Military Intelligent Services and other military services have informed the minister of Defense, Mimi Kodheli". Berisha invited the minister to appear at the Parliamentary Committee on Security to "receive all the details".
Prime minister Edi Rama responded today to Berisha's declarations. He briefly said that the airplanes that the opposition alludes have been raised to spray poison against mosquitoes in problematic areas.
But, Berisha objects this claim. "Facts show that this traffic has been done at a time different to the period when anti-mosquito poison was sprayed".
Meanwhile, General Attorney, Adriatik Llalla made his first comment today on this debate. He said that these suspicions are being investigated and he invited opposition MPs to bring concrete proofs.
"We're in the stage of verification. Prosecution will demand all MPs who have suspicions to submit proofs that they havet", said Llalla, appointed by former prime minister Berisha around 2 years ago.
Mr. Berisha's reaction was prompt: "It's not true that the prosecution has started an investigation. The prosecution cannot demand the opposition to submit proofs without starting an investigation first".
Minister of Defense, Mimi Kodheli demanded a few days ago from the General Attorney to publicly speak and say if the accusations of the opposition were being investigated or not. Today, Mrs. Kodheli said that it's a disgrace to say that the infrastructure of the Albanian army has been put to the service of the drug traffic and that Albania has become a protectorate of drugs.
"There's not a single proof or fact that Armed Forces or Albanian military bases are involved in such criminal activities", said Kodheli.
The minister said that drug trafficking may have taken place, but before September 2013, when the left came into power. She warned that she will no longer react on the accusations launched by the opposition. /ibna/