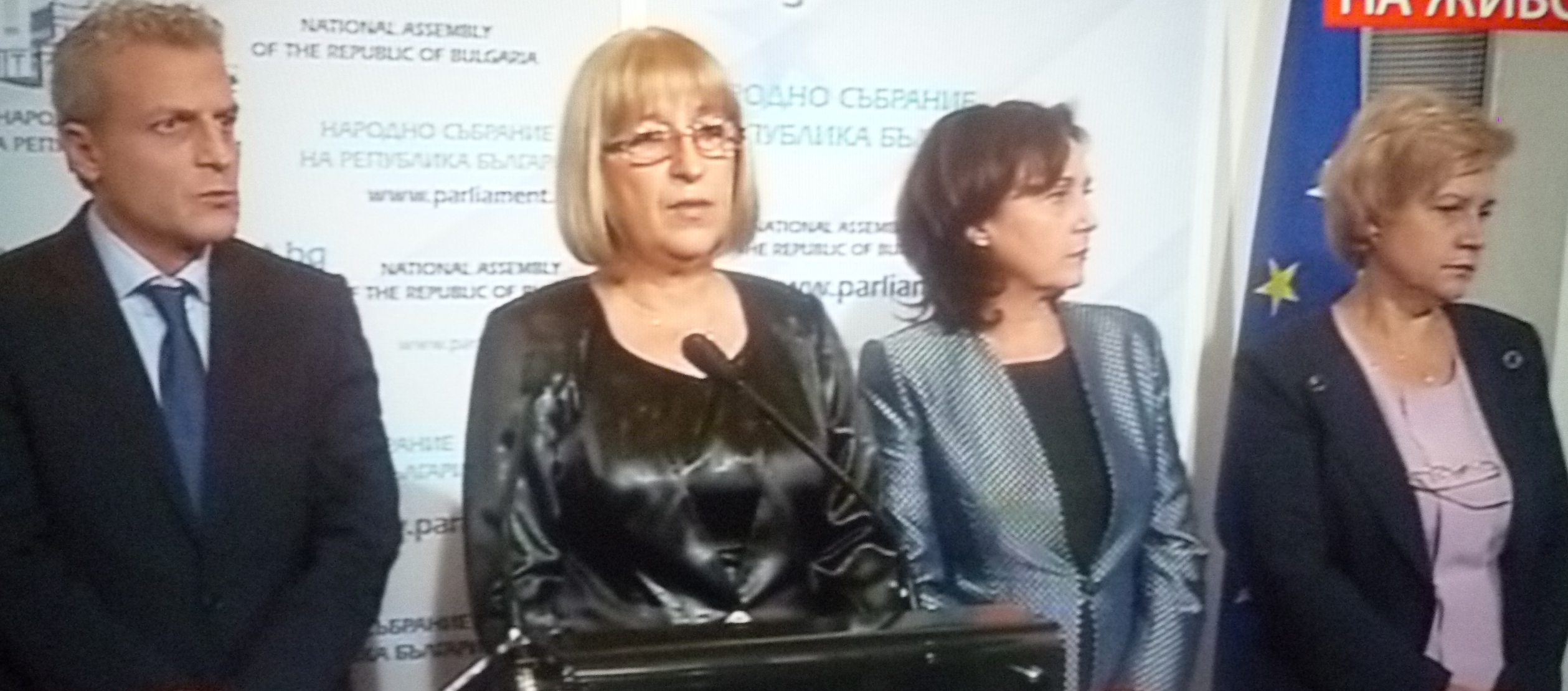 By Clive Leviev – Sawyer of The Sofia Globe
The failed first round of talks between GERB and the other centre-right, if much smaller, force in the new Bulgarian Parliament, the Reformist Bloc, has left unclear the ultimate makeup of a possible coalition government.
More than six hours of talks between negotiating teams from GERB, winner of the largest share of seats in the October parliamentary elections, and the Reformist Bloc ended only with expressions of frustration and conflicting views on whether talks between the two would continue.
Remarks by GERB negotiator Roumyana Buchvarova were interpreted as meaning that there would not be a second round of GERB-Reformist Bloc talks.
GERB chief negotiator Tsetska Tsacheva said that the team had emerged from talks not knowing how reliable a partner the Reformist Bloc would be.
Tsacheva also expressed frustration at dealing with the Reformist Bloc because of its complex nature and the fact that the bloc's negotiating team were representing the multi-party group as a whole but also as individual parties.
GERB also took offence at the Reformist Bloc making public, ahead of the October 15 meeting, a platform of policy demands that it required Borissov's party to sign up to before there could be any progress in possible coalition talks.
After the October 5 ahead-of-term elections, there has been widespread speculation that the ultimate coalition – under difficult circumstances – would be GERB-Reformist Bloc-Patriotic Front, the last-mentioned a coalition of two nationalist formations.
This is not necessarily a politically comfortable fit. The Patriotic Front in several policy areas is hardly different from Ataka, the party headed by Volen Siderov from which Patriotic Front co-leader Valeri Simeonov has been become estranged.
Korman Ismailov, leader of one of the bloc's constituent parties, has publicly expressed misgivings about possibly being part of a coalition that includes nationalist and populist formations.
Should there be no deal with the Reformist Bloc, Borissov could still try to come up with a coalition government – he has promised cabinet seats in return for support – possibly discreetly accepting tacit support from parties ostensibly not part of the coalition, notably the Movement for Rights and Freedoms.
Borissov, speaking after the failed first round of GERB-Reformist Bloc talks (GERB's approach is that the first round negotiations are not attended by party leaders, so he himself has attended none) said that he was ready for new talks with the Reformist Bloc "if they ensure responsibility and come up with personnel suggestions".
Borissov said that he was a responsible person and was ready for talks, but wanted the bloc to stop acting like they were in an election campaign.
GERB was ready to hear proposals on personnel for top posts and to discuss a vision of shared responsibility but, "today they did not have this willingness," Borissov told reporters.
He said that he had come to understand after the talks that the bloc had not been prepared for discussions on several of the themes, and said he was dissatisfied because within a few days, it was necessary that there should be a government ready, with shared responsibility and people to carry it out.
Responding to bloc demands that it wanted a commitment to an end to the nexus of political, business and media behind-the-scenes power dealing, Borissov said that his party had dealt with the issue, adding that it had made clear that the MRF was not an acceptable party to support GERB.
The number of people that the Reformist Bloc had sent was evidence that they were an unstable organisational partner.
"And sending (former energy minister Traicho) Traikov, who was replaced by me because of poor performance and problems in energy, is an evident provocation and an attempt to torpedo the negotiations from the outset."
However, Borissov said, the "drop" of optimism he still had was that the bloc's Petar Moskov has said repeatedly that they are willing to do anything to ensure a single political entity and to continue negotiations
"I am ready to go and send a negotiating team again if they manage to get organised, start talking about real management and stop the post-election propaganda. The elections are over, people expect a government, expect to see who are the people who will lead the country forward, not bare theories," Borissov said.
Radan Kanev, leader of one of the bloc's constituent parties, said that GERB's desire to work with the MRF and Nikolai Barekov's Bulgaria Without Censorship (a populist minority party that will have 15 seats in the National Assembly) was the real reason for the breaking off of negotiations between GERB and the Reformist Bloc.
"Their desire to work with (controversial figure and MRF MP Delyan) Peevski and Barekov is what has led them to interrupt the negotiations," Kanev said.
He said that, "we see that GERB entered into these negotiations with the intention to seek an occasion to break them off". He hoped that reason would prevail, Kanev said, because the bloc believed that all parties that had opposed the "Oresharski" cabinet could work together.
In a television interview, Moskov repeated what he had said at a news conference after the October 15 talks, that there was no way to begin to talk about ministers before specifying the policy framework to be followed.
Moskov said that regarding government priorities, there was a virtually 100 per cent overlap between GERB and the Reformist Bloc and in two or three cases, to really deep specific detail.
But it had turned out that the stumbling blocks were GERB's "more or less legitimate concern" about the decision-making process in the bloc.
Meglena Kouneva, leader of a bloc constituent party and who did not attend the October 15 talks, said that if there was a will, there were no insurmountable obstacles between GERB and the Reformist Bloc.
She described the talks as having been "thorough and serious" and the next steps depended on the goodwill of both parties.
Kouneva said that the bloc negotiating team had gone prepared for the talks with GERB.
"For us, it is important to outline the general framework, the environment in which a future majority government would work," Kouneva said.