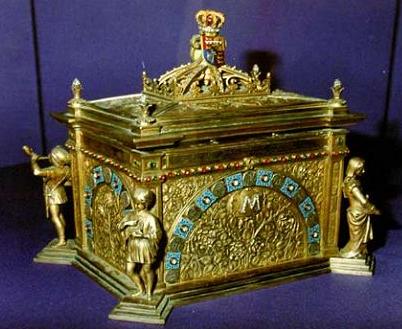 Bucharest, October 22, 2015/Independent Balkan News Agency
By Irina Stoica
The Royal family will open its gates to the public for a very special occasion: Queen Mary of Romania symbolically "returns" in the family. The royals will get back the queen's heart, which has been under the custody of the National History Museum. Placed in a beautifully crafted silver box, it will be given back to the family in a public ceremony in front of the museum, on the 3rd of November. From downtown Bucharest, a motorcade will escort the Royal Family to the town of Sinaia, home to one of the most important royal domains: The Peles Palace and Pelisor Palace. Queen Mary's heart will be deposed in Pelisor Palace, in the very room where it had consumed its last beat. This ceremony will be private, attended only by members of the Royal Family, clergymen and army men.
Sovereign, writer and philanthropist, Queen Mary's last wish was that her heart would lie in a chapel at her beloved residence in Balcic, by the Black Sea. At that time, Balcic was part of the Romanian territory. Only two years after her death in 1938, her wish could no longer be respected, due to geopolitical changes in the region. The heart was temporarily kept in the Transylvanian Castle of Bran, but the castle's chapel was later desecrated by Communists. Then came the transfer to the National Museum of History in Bucharest, where the heart was kept for 40 years.
Romanian Government recently issued a decision that Queen Mary's heart should be returned to the family. Since Balcic is now part of Bulgaria, King Michael chose the Pelisor Palace as the final resting place for his grandmother.