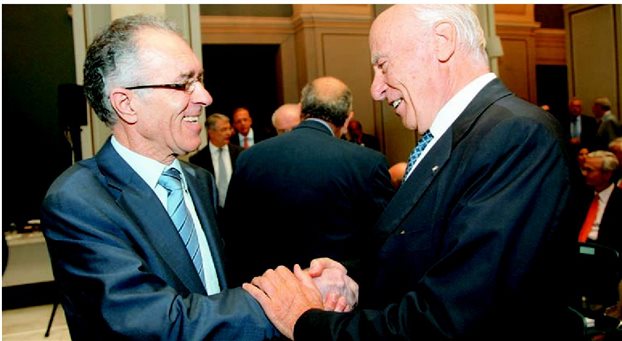 By Lefteris Yallouros – Athens
Greece's fourth-largest lender Alpha Bank was the latest of the country's four systemic banks to report first quarter 2014 results Thursday.
Alpha Bank posted a loss of 94.1 million euros for the first quarter. Provisions for non-performing loans fell 22 percent year-on-year in the first quarter to 395 million euros.
Results were in line with expectations as analysts polled by Reuters had forecast on average a loss of 107.6 million euros.
Alpha's results were largely overshadowed by news that the bank's president Yannis Costopoulos(photo), 76, has decided to step down. The Costopoulos family founded the bank almost 130 years ago and the "captain's" (as he is called) departure is a loss for the bank and the sector as a whole. Alpha Bank sources say Costopoulos considered his mission was complete having steered the bank out of the 2009 crisis.
The Alpha Bank board of directors convened on Thursday to elect Vassilis Rapanos, a former president of the National Bank of Greece, as the new (non-executive) president.
National Bank profitable in Q1, Eurobank posts loss
Greece's largest lender, the National Bank (NBG), posted net earnings of 181 million euros in January to March, its sixth straight profitable quarter. Turkish subsidiary Finansbank contributed 63 million euros of profit. Provisions for non-performing loans fell 15 percent year-on-year to 362 million euros.
Commenting on results, Chief Executive Alexandros Tourkolias appeared optimistic "unique liquidity position versus our peers in Greece allows us to provide substantive support to the economy at a time when the country is gradually steering out of the crisis and back to growth,"
Meanwhile, Eurobank, reported a loss of 207 million euros. Bad debt provisions fell to 479 million euros in the first quarter from 647 million in the previous three-month period. Non-performing credit rose to 30.9 percent.
"The continuing increase in pre-provision income, the decline of [bad loans] and the discontinued usage of [the European Central Bank's emergency liquidity assistance] allow us to be optimistic for the implementation of our strategic plan and further improvement in the next quarters," Eurobank's Chief Executive Christos Megalou said in a statement.
All three banks should be pleased their flow of nonperforming loans slowed in the first quarter. Effective management of bad loans will be required of the country's systemic banks in order for them to take full advantage of the signs of a turnaround in the economy.