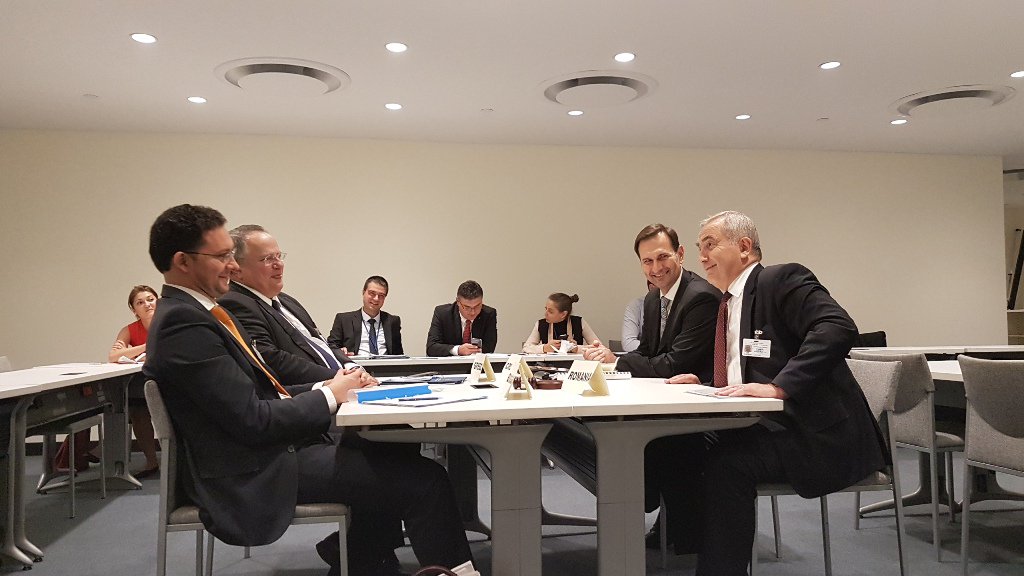 New York, September 20, 2016/Independent Balkan News Agency
By Spiros Sideris
The common issues the four Balkan countries – EU members are faced with were the focus of the quadripartite meeting of the Foreign Ministers of Greece Nikos Kotzias, Bulgaria Daniel Mitov, Romania Lazăr Comanescu and Croatia Miro Kovač.
The meeting, which was held in the sidelines of the UN General Assembly in New York, was the second of the four countries, as they had met for the first time in Sofia, Bulgaria on June 1, 2016.
The intra-European cooperation of the EU South, as Nikos Kotzias described it to reporters, dealt with issues concerning the Brexit, the European Union's future, cooperation in economic sectors such as information technology and development of the common market, as well as with problems associated with migration and the refugee problem.
The Greek Foreign Ministry, noted that the four countries "have common actions in the European Union, we have to deal with how this will be built after the withdrawal of the United Kingdom, what policies the European Union will follow, particularly in the areas of Security, Defence Cooperation, European Integration, and the economic field.
On the issue of a common immigration and refugee policy between the four countries, Nikos Kotzias said that "for the most part we have one, because we are all countries that are on the southern front of Europe and are directly impacted by refugee flows and the consequences of the ongoing war in the Middle East.
The initiative for an internal alliance, of small and medium-sized countries – shaped by Greece – for the first time after a long time in the EU, is veryimportant for the four countries that have common interests and common positions.