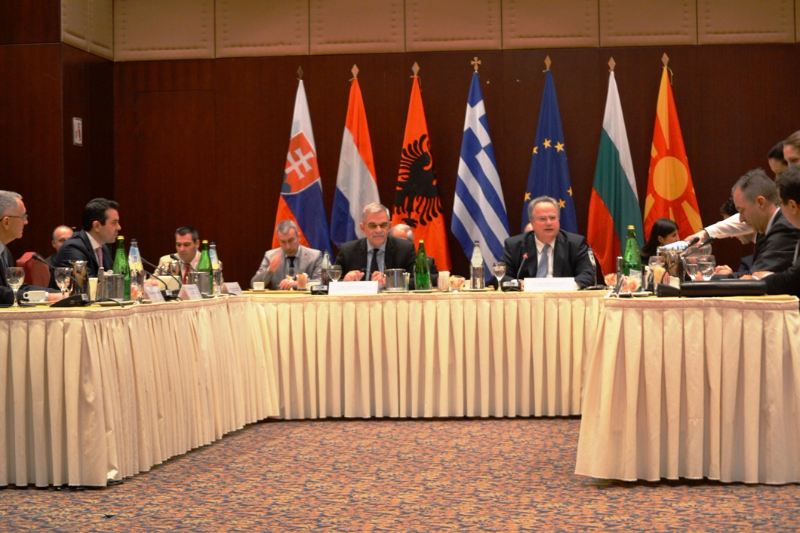 Athens, April 22, 2016/Independent Balkan News Agency
By Spiros Sideris
In Thessaloniki is taking place the quadripartite meeting between the Foreign Ministers and Interior Ministers of Greece, Albania, Bulgaria and FYROM, with the focus on cross-border cooperation.
"As part of the initiatives we take, we have today the meeting of the four countries in the region to discuss both the refugee issue and cross-border cooperation in general", said the Greek Foreign Minister Nikos Kotzias, arriving at the meeting.
As the FM of Greece said, "our Ministry has decided a series of international conferences outside Athens. In fact, we are planning the second week of September, a meeting between Arab countries and the EU member states – I will make the announcement today – to do it in Rhodes".
The quadripartite meeting on Thursday attended, the Greek Foreign Minister Nikos Kotzias, the Deputy Minister of Citizen Protection Nikos Toskas. From Albania participated Sali Ramadani, Assistant Minister for EU and International Cooperation and the Ambassador of Albania in Athens, Dashnor Dervishi from FYROM, the Foreign Minister Nikola Poposki, the European Cooperation Ministry of Foreign Affairs from Holland and the Ammbassador from Slovakia Peter Michalko, both on the part of the EU.
At the end of the first day of the quadripartite meeting, the Greek Foreign Minister said in a statement: "I think we made a step forward in our cooperation with our northern neighbours. Today's and tomorrow's meeting of the Foreign Ministers and Interior Ministers of the four countries is another one of our initiative.
The main subject of our discussion was the cross-border cooperation, not only in the refugee and migration issues, but also on issues related to EU programs, cooperation in economic and cultural fields and in education.
I should note here that we also discussed for the initiatives we must take in relation to third countries and for the position of the institutions of the European Union.
The conversation took place in a very good atmosphere. A number of proposals was heard. All sides agreed with the main proposals we presented.
We continue tomorrow with more specific issues, police cooperation and the fight against terrorism. And we agreed at the end of today's meeting that this, or in this way structured meeting of the States that have common borders in the Balkans, will be repeated at regular intervals, that is will take an institutional, stable nature".
Invited to comment on the overflights over the Greek border by FYROM helicopters, he said that "we (Greece) are more serious than others".
Photo: Spiros Sideris/IBNA