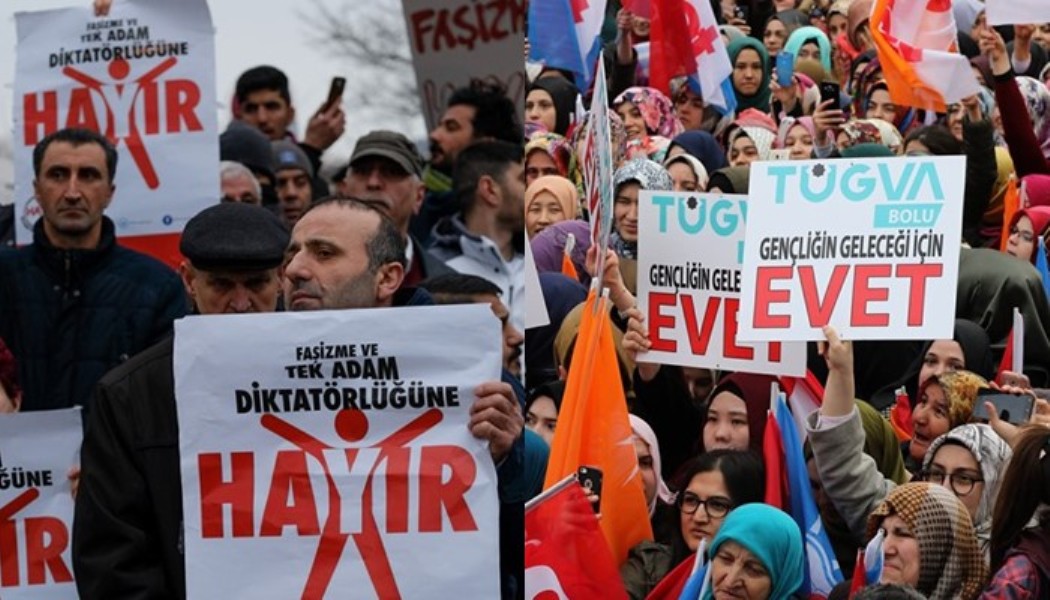 With almost all the ballots counted in Turkey's historic constitutional referendum Sunday, Yes won with 51.34 percent of the vote.
As of 9.25 p.m. (18:25GMT), unofficial results showed Yes with 51.34 percent — 24,789,242 votes — while No had 48.66 percent, or 23,499,390 votes.
Turnout across the country was 87 percent.
Sunday's referendum asked voters to choose Yes or No on an 18-article bill that would see the country switch from a parliamentary to a presidential system, among other changes.
Provinces which voted most heavily for either Yes or No:
Yes in Bayburt (81.67 percent), Rize (75.56), Gumushane (75.16), Erzurum (74.50), Kahramanmaras (73.95), Cankiri (73.46), Bingol (72.67), Konya (72.88), Elazig (71.82), and Sivas (71.30).
No in Tunceli (80.35 percent), Sirnak (71.50), Kirklareli (71.33), Edirne (70.35), Mugla (69.19), Izmir (68.78), Hakkari (67.62), Diyarbakir (67.58), Igdir (65.14), and Batman (63.50).
Binali Yildirim: Nation gave its final word by saying 'Yes'
Prime Minister Binali Yildirim said Sunday the Turkish nation gave its final word by voting Yes in the country's constitutional referendum.
Speaking in Ankara at the Justice and Development (AK) Party headquarters, Yildirim said: "I thank and express my gratitude to all our citizens who went to the ballot box with a high turnout, and who protected our democracy."
"We have said different things in [rally] squares; we have voiced different things to the nation but the nation gave its final world by saying 'Yes'."
The Turkish premier also said the nation used the ballot box to respond to terror groups.
"In this referendum, our nation gave the best response at the ballot box to the terrorist organization that conducted the July 15 coup attempt, the PKK terrorist organization and foreign powers which treat Turkey as an enemy," he said.
According to Turkey's government, the Fetullah Terrorist Organization (FETO) and its U.S.-based leader Fetullah Gulen orchestrated the defeated coup of July 2016 which left 249 people martyred and nearly 2,200 injured.
Ankara has also said FETO is behind a long-running campaign to overthrow the state through the infiltration of Turkish institutions, particularly the military, police and judiciary.
More than 1,200 people, including security force personnel and civilians, have also lost their lives since the PKK — listed as a terrorist organization by Turkey, the U.S. and the EU — resumed its decades-old armed campaign in July 2015.
Devlet Bahceli: Turkish 'Yes' vote a 'significant achievement'
Turkey's opposition Nationalist Movement Party (MHP) leader has described Sunday's referendum result as a significant success.
"The Turkish people have gone to the polls with a great dignity and decided on shifting to the presidential system of their own free will.
"This is a very significant achievement and cannot be ignored or rejected," Devlet Bahceli said in a statement.
Bahceli said everybody "should respect and approve" the result in which Turkish citizens voted Yes to moving to an executive presidency.
"The great Turkish nation, the sole owner of sovereignty, has given the final word about the future of its country, clinging to its independence and future. Everybody should respect and approve it," he added.
Bahceli congratulated the Turkish people and Turkey's political parties on the Yes result and said: "A new era in our state and political life has started as the national will pointed to Yes."
Erdogan congratulates party heads on referendum victory
Turkey's president has congratulated the heads of political parties which supported the Yes campaign in Sunday's referendum.
After voting in Turkey's constitutional referendum concluded nationwide, Recep Tayyip Erdogan on Sunday evening had phone conversations with ruling Justice and Development (AK) Party leader Binali Yildirim, Nationalist Movement Party (MHP) leader Devlet Bahceli, and Grand Unity Party (BBP) Mustafa Destici, presidential sources said.
Erdogan congratulated the party leaders on their referendum victory, said the sources, who spoke on condition of anonymity due to restrictions on speaking to the media.
The president also thanked the voters who went to the polls to reflect their choice.
Meanwhile, many world leaders have sent congratulatory messages to Erdogan, the sources added./IBNA
Source: Anadolu Agency