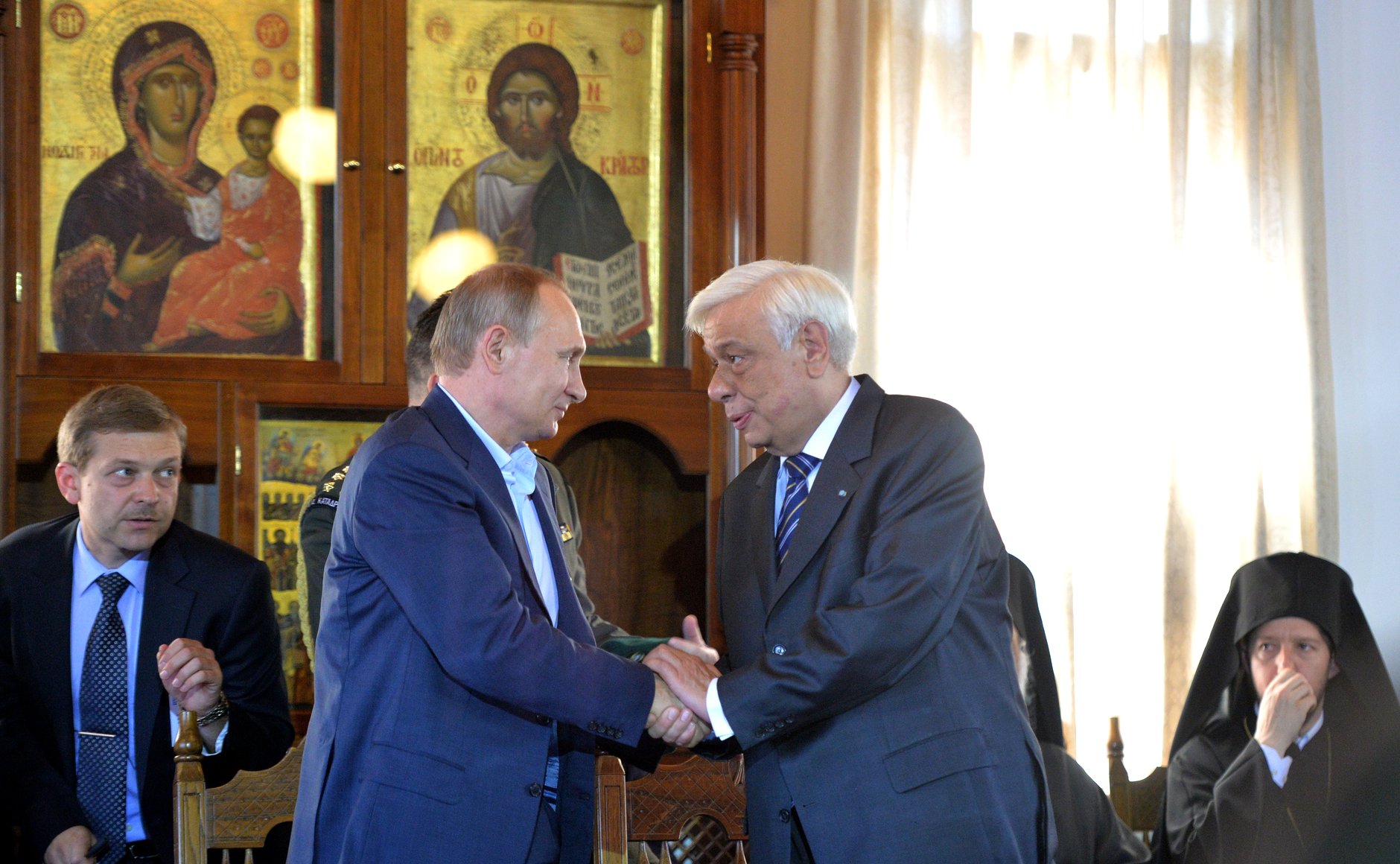 Athens, May 30, 2016/Independent Balkan News Agency
By Spiros Sideris
The visit of Putin in Greece was concluded with the visit to the holy Mount on Saturday, where he was received with great pomp. On Friday, he met with both the Greek President Prokopis Pavlopoulos and the Prime Minister Alexis Tsipras, while he also participated in the bilateral meeting with the participation of numerous ministers from both sides.
The visit of Vladimir Putin in Greece had a special meaning amid the Ukrainian and Syrian crisis and tensions between Russia and Turkey. The Russian President, using perhaps his visit to Mount Athos as a pretext, gave a second chance to the Greek Government to seriously consider the development of the two countries' relations, but also to send a message to the West that Russia is a player in the World political chessboard and not a pawn.
It is no coincidence that to the question (;) of a Russian journalist, he sent a message to the West that Russia will not remain idle towards the missile shields NATO is setting up in Romania and Poland. Specifically, in his response he said: "This (missile facilities) certainly creates a threat to us, which is why we are forced to react accordingly also for the parts of Romania that did not know what it means to be a target. Now we will take actions which will ensure our security". The Russian President's statements could be interpreted as targeting those who threaten Russia.
The Russian President certainly does not want a war. He wants security, in order to proceed with the reconstruction of his state, but without being left outside the international political scene. He does not want isolation but cooperation; he seeks a place in the "table of the West", since as he stressed: "I will say that since the early 2000s onwards we have been saying the same things. Nobody wants to have negotiations with us. We do not hear anything constructive other than generalities. All you hear is that their actions (the Americans) are not directed against Russia".
What role can Greece really play in this effort to bring Russia with the West?
In reality none. As he stated in response to a relevant question: "As to the possibility to influence (…) we understand very well in what world we live in and Greece is in a fairly difficult situation". Putin knows that Greece can not offer something. It is however, a member of both the EU and NATO. Bitter enemies of Russia both. But Greece can provide a step to Russia to be heard. And it is more important for the Russian President to commune to a foreign audience than speaking inside the walls. Russia knows and feels that it is isolated from the West and this is something that must be overcome if it wants to have the ability to design, as equal to equal, a world that is being redefined.
Greece still holds an advantage for Russia. It is an opening to the Mediterranean, an area of geostrategic importance for Russia, which wants to have a say in what happens in the Middle East and North Africa. While former Soviet Republics that now belong to the EU, have become opponents of Russia, the same is not true for the Arab countries of Africa and Middle East, which have friendly relations with Russia. And naturally they want to continue having these relations. The geopolitical position of Greece and its traditional good relations with these countries makes it an appealing ally to Russia.
What remains is for Greece to accept this and to understand its importance for Russia, and to develop its relations with the coreligionist country, not with the logic of the bogeyman for the "opponents" but that of beneficial cooperation.
Photo: Kremlin.ru