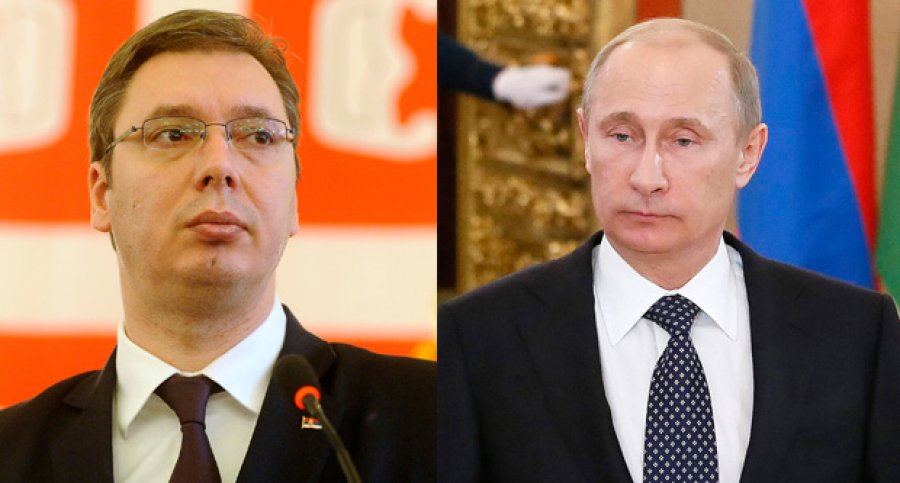 By Milos Mitrovic – Belgrade
Russian Federation plans to intensify its relations with Serbia especially with regard to economy and trade, President Vladimir Putin said today in Moscow during his meeting with Serbian Prime Minister Aleksandar Vucic. Vucic who is in the second day of his official visit to Russia thanked Putin for the support to Serbia speaking in Russian.
Serbian Broadcasting Corporation (RTS) reported that Putin and Vucic had a tete-a-tete meeting prior to the meeting of the delegations of the two countries. They discussed the "South Stream" project, gas price and Serbian debt to Russian state owned "Gazprom". Situation in Ukraine has also been at the table.
Last week Vucic said that Serbia owes approximately 300 million EUR to Russian gas giant announcing this would be the main Putin's "remark" during his visit.
Considering Ukraine crisis Vucic repeatedly said that Serbia recognizes the country's territorial integrity but will "never" impose sanctions to Russia. This position is contrary to some expectations within the European Union whose member state Serbia strives to become. At the same time, Russian diplomats praised Belgrade's stance.
"We thoroughly follow the political situation in Serbia and the most important is to mutually develop the best possible economic relations", Putin underlined adding he knew that Vucic had "significant discussions" with Prime Minister Dmitry Medvedev on Monday. Vucic said that he expects that "the key issue" – the contract to construct the "South Stream" gas pipeline in Serbia – would be realized "soon after today's meeting".
On Monday, Prime Minister Medvedev underlined after meeting with Vucic that all projects in energy sector between the two countries are going well and that "South Stream" gas pipeline construction is the priority.
Putin told Vucic that Russia and Serbia have reached the significant level in their cooperation but that even greater opportunities lie ahead of them.
Vucic also thanked Russian President for Moscow's support regarding the Serbian policy on Kosovo and Metohija, RTS reported from Kremlin. He stressed that Serbian delegation was "trying, and was successful day", announcing that a number of bilateral agreements would be signed during the visit.
Economy Minister Dusan Vujovic, Energy Minister Aleksandar Antic and Belgrade mayor Sinisa Mali are in the delegation headed by Vucic. Earlier today Mali met with Moscow mayor Sergey Sobyanin. The representatives of the two cities will sign the document on cooperation later this year, it was announced.