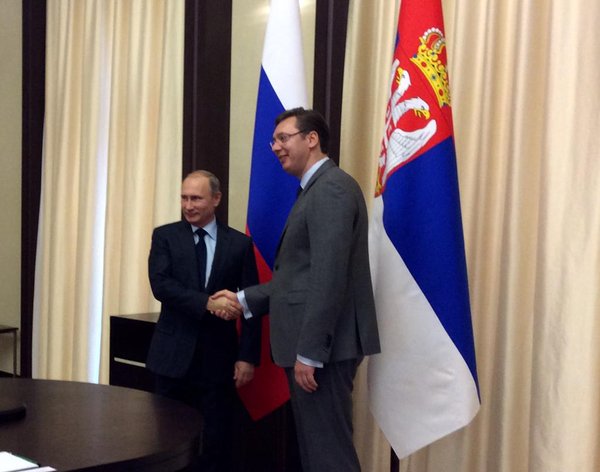 Belgrade, October 29, 2015/Independent Balkan News Agency
By Milos Mitrovic
The dialogue between Serbia and Russia is focused on peace and stability in the Balkans as well as resolving the Kosovo issue, Kremlin stated in its Press release following today's meeting of President Vladimir Putin and Prime Minister Aleksandar Vucic. Putin and Vucic have discussed bilateral economic and political relations and the issues "of international importance", Tanjug reports from Moscow.
Putin talked to journalists some three minutes, welcoming Vucic and the Serbian government delegation. At the meeting, ministers of foreign affairs, economy, transportation, internal affairs and defense were present alongside Vucic.
Putin positively assessed Serbian agricultural exports to Russia, stressing that the trade exchange grows "despite the problems in both world and Russian economy". "Regardless the problems in world economy and here, among us, where everything is not that simple, trade exchange with Serbia grows, grows unexpectedly. The exports of Serbian agricultural products have risen by 40 percent. This is a good indicator", Putin said adding that Belgrade and Moscow "have many other issues of mutual interest", Tanjug reported.
In Putin's words, Vucic's three-days visit to Moscow was comprehensive. Russian President said that Vucic and his Russian homologue Dmitry Medvedev, his main host, have tackled "all aspects of bilateral cooperation" at their meeting on Tuesday.
At the meeting with Putin, which lasted one hour, Vucic thanked Russia for its support to Serbia within United Nations and other international organisations. He also said he was hoping that the development of bilateral ties would "accelerate":
"On behalf of the Serbian government I would like to thank you for the support you are giving us in UN, UNESCO and other international organizations where Serbia strives not only to protect its territorial integrity but also its spirit of freedom".
Earlier this year Russia blocked – on Serbian request – the so called British resolution on Srebrenica in UN Security Council. According to Serbia, the document was biased against Serbia. More recently, Russia voted against Kosovo membership in UNESCO at the session of Executive Council of this organisation.
The meeting of Vucic and Putin marked the end of Serbian premier's visit to Moscow. This was the third encounter of Vucic and Putin in the last 15 months.