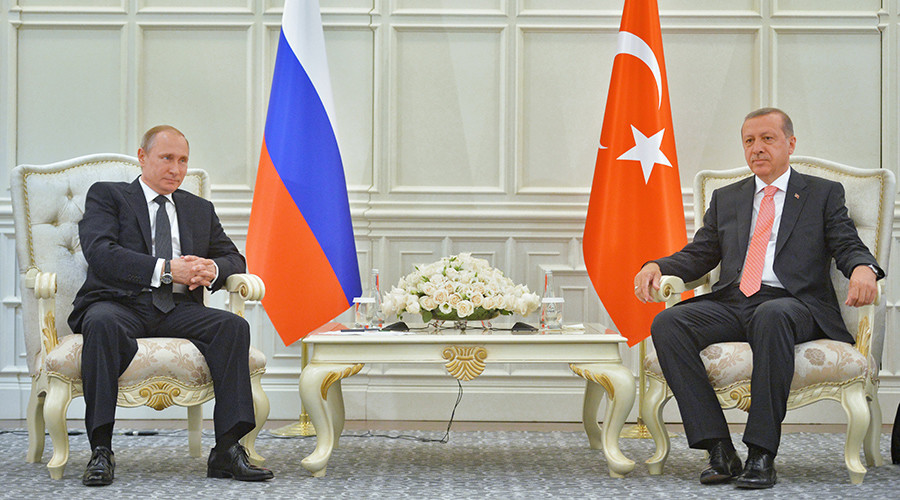 Sofia, August 10, 2016/ Independent Balkan News Agency
By Clive Leviev-Sawyer of The Sofia Globe
Russian president Vladimir Putin appeared to soften his position on the prospect of reviving the South Stream gas pipeline project after a meeting with his Turkish counterpart Recep Tayyip Erdogan, even as the latter promised to begin construction on the rival Turkish Stream pipeline "as soon as possible".
After declaring South Stream dead – during a visit to Ankara, no less, in December 2014, when he also announced the Turkish Stream project (in essence, the same pipeline, but redirected to Turkey's European part, as opposed to Bulgaria) – Putin routinely blamed the European Commission and Bulgaria's failure to issue the necessary construction permits as the reason for the pipeline's demise.
There were no such recriminations after Putin met with Erdogan in St. Petersburg on August 9, however, with Putin acknowledging Bulgaria's interest in reviving South Stream, but pointing out that after losing money when the project was abandoned, Russia now required iron-clad legal guarantees for the project to go ahead.
The EC objected to the pipeline because it breached the rules of the Third Energy Package regulations, which prevents vendors from directly owning infrastructure and requires that access to infrastructure is given to third parties, while Russia disagreed, arguing that intergovernmental agreements superseded EU law. Even Bulgaria's pro-Russian government at the time, headed by Plamen Oresharski, did not side with Moscow in the argument, freezing the preparations to begin construction after the Commission opened infringement proceedings into the public tender to pick the construction contractors.
But despite initial promises that Turkish Stream will keep the same project deadlines as South Stream, including the completion of the pipeline's first string by the end of 2016, there was little progress made between Moscow and Ankara, as Turkey wanted to first negotiate a gas price discount on its current gas deliveries from Russia. The downing of the Russian military jet by Turkish air forces in November 2015 put the entire project in limbo.
Erdogan's visit to Russia, the latest sign of rapprochement between Moscow and Ankara, was expected to give a new impetus to the project, but the statements of the two presidents were hardly in the realm of "iron-clad guarantees" either.
Erdogan vowed that Turkish Stream would be built "as soon as possible", but it was unclear whether he meant just the first string of the pipeline, which would deliver gas to Turkey alone, or the additional strings that would pump gas meant to be shipped on to Europe. Analysts have said that Russia's state-owned gas company Gazprom would need at least one, if not all three, export strings (each with an annual capacity of 15.75 billion cubic metres) to make the project economically feasible.
Putin, for his part, said that the issue of gas transit through Turkey would require talks with the EU, a difficult proposition considering that the EC has repeatedly said it was in favour of keeping the current gas transit route through Ukraine, while the Kremlin-backed new gas pipelines – South Stream, Turkish Stream and the plans to expand the Nord Stream – are all meant to make Ukraine redundant as a transit country.
For Bulgaria, this latest development may hint at the possibility that it could yet secure Russian deliveries for a planned gas hub on its Black Sea coast. Prime Minister Boiko Borissov spoke recently by phone to Putin to discuss Bulgaria's frozen joint energy projects with Russia (a list that also includes the shelved Belene nuclear power plant) and Bulgarian government was keen to publish a letter, last week, from European Commission president Jean-Claude Juncker that appeared to back Sofia's efforts to secure gas deliveries from Russia, although it also pointed out that any such shipments would have to be in full compliance with EU law.