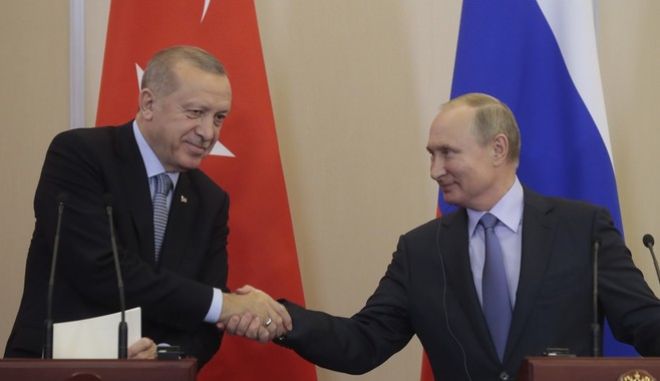 After 6.5 hours of talks and negotiations, Vladimir Putin and Recep Tayyip Erdogan reached an agreement that appears to satisfy all sides except the Kurds.
But it will be more satisfying for Syrian President Bashar Al-Assad who, without throwing a single bullet, will suddenly control most of the areas the Kurds have controlled in northern Syria for the past eight years, except for the 120km-long area. that Erdogan agreed with Pence.
The 10-point agreement shows that Assad forces, in cooperation with Russian forces, within 150 hours (6 days) will enter the areas currently controlled by the Kurds, bar the areas currently controlled by Turkey through the operation "Peace Spring", to secure the withdrawal of Kurdish YPG militia forces 30 kilometers from the Turkish border.
At the same time, west and east of the areas controlled by Turkey with operation "Peace Spring", Turkey and Russia will conduct joint patrols at a depth of 10 kilometers, with the exception of the Kamisli area.
The YPG forces will withdraw from the cities of Manbij and Tell Rifaat.
An important detail is that Russia recognizes the status quo of the military operation Turkey has carried out in recent days.
With this deal, Erdogan succeeds in removing the Kurdish Army (YPG) and expanding 30 kilometers further to the south,aAs is the case now with the area ​the "Peace Spring" operation is conducted. This precludes the creation of an autonomous Kurdish region next to the border with Turkey. Thus the entire Turkish-Syrian border will be under the control of either Assad or Erdogan.
Putin, along with Syrian President Assad, have gained control of the area that the Kurds have so far controlled.
The Kurds in the region are only satisfied with the point of non-military operation by the Turkish Armed Forces, as is currently the case in the Tell Abyad-Ras Al Ayn zone under the agreement signed with the US.
Heads were turned with Vladimir Putin's statement that for stability and security in the region, Ankara should consult with Damascus.
Erdogan, for his part, made it clear that he respects the territorial integrity of Syria"./ibna