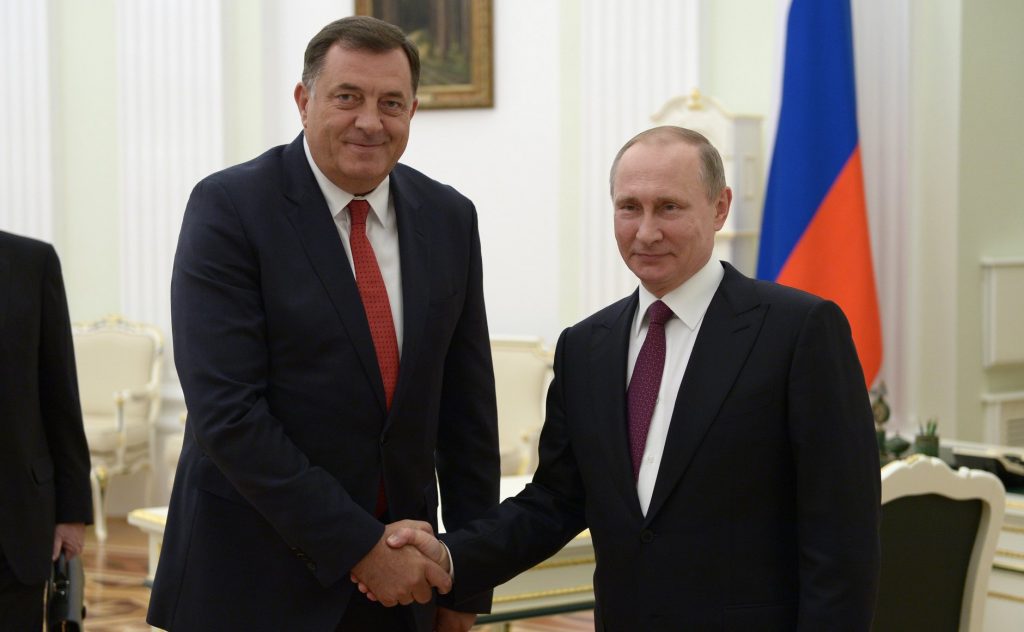 Banja Luka, September 23, 2016/Independent Balkan News Agency
By Mladen Dragojlovic
President of Russian Federation, Vladimir Putin, received the RS President Milorad Dodik, for a short visit, to discuss various issues from economy to political situation in Western Balkan region.
The meeting was held on Thursday night, 8PM at Central European Time, and Putin cabinet issued a press release after the meeting. In the just three sentences long press release it was confirmed that the meeting was held and nothing more.
"The meeting included a discussion of the situation in the Balkans and various aspects of bilateral cooperation. The parties exchanged views on key issues on the international agenda", said the press release.
According to Dodik, the discussion was long and very useful. In his statement for the media after the meeting, Dodik said the talks were very successful; it was the best possible atmosphere, and they discussed important political and economic issues.
"President Putin expressed his support to the stabilization of the region, his support the Dayton Peace Agreement, he wished progress both for BiH and the Republic of Srpska and, in this regard, expressed confidence that the Russian Federation with its positive attitude, contributes to the stabilization", Dodik said.
He stated that participants at the meeting agreed that cooperation between RS and Russia has a continuity and is very good and successful, and that it is based on mutual respect of interests in the economic field.
"We expressed satisfaction with the fact that Russian company `Zarubežnjeft`, which purchased oil refinery in RS, began to work in the best way to make profit, and there is a guarantee that this will continue in the future", Dodik added.
And he went on to say that there is interest in economic cooperation. Investments which Russian business community opened earlier are reopened and, in this respect, what RS can offer to Russian market, is welcomed.
Dodik also said that this meeting was an opportunity to inform the President of the Russian Federation on the development of the political situation in BiH and to express his opinion on it, particularly pointing to the fact that the High Representative still works in BiH 20 years after war. Dodik emphasized that three foreign judges are still in Constitutional court and that their voices are dominantly decicive.
Unofficially, Dodik tried to put the referendum in the focus of the discussion in order to get some kind of support. But Putin didn't want to be involved in this issue and Dodik, until the end of meeting, didn't raise this question again. For many analysts and politicians in the country this means that the Russian attitude about the referendum is that they do not support it but also do not deny the right of Serb people in BiH to hold the referendum as a democratic expression of the citizens' will.