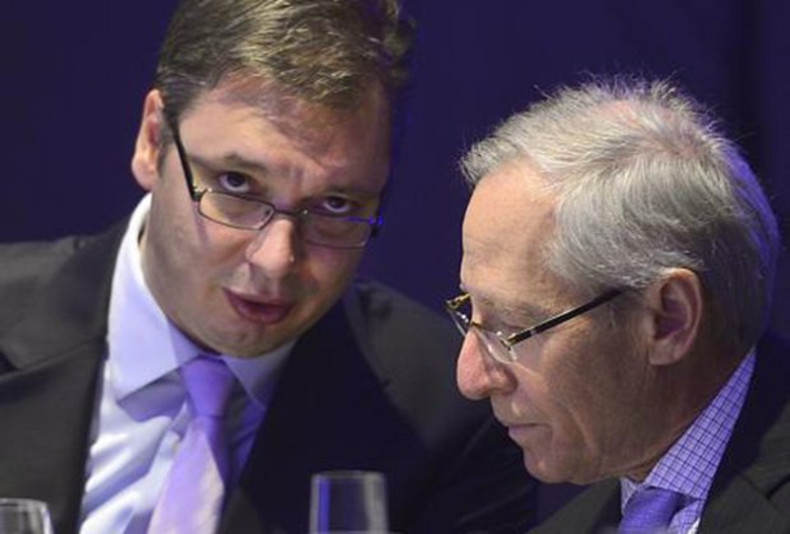 By Milos Mitrovic – Belgrade
"It is not certain yet whether Putin (Russian president Vladimir) will visit Belgrade, but if this happen, why is he coming", United States ambassador to Serbia Michael Kirby said provoking huge media attention. Serbian prime minister Aleksandar Vucic said today that Kirby's remark was directed to Russia rather than Serbia.
Putin will allegedly visit Belgrade in October to mark the 70th anniversary of Serbian capital's liberation from Nazi Germany troops.
"You (Serbia) can have good relations with either Russia and China, but also with the U.S.. But our position considering the visits of Chinese and Russian officials is nuanced. This is important. Chinese did not recently invaded anyone, unlike to Russians.  It is not certain yet whether Putin will come, but if this happen, why is he coming? To mark the anniversary of Belgrade's liberation? But Belgrade was also freed by the Third Ukrainian Army, which was the part of the Red Army. If Putin was invited, why then the others who participated in the liberation of Belgrade were not invited as well", Kirby said in the interview to "Vecernje novosti" daily.
Kirby's question was "directed to Russian side, rather than to Serbia", prime minister Vucic told journalists on the sidelines of the opening of an factory in Subotica. He added he would not comment the relations between Russia and US.
Vucic underlined that ambassador Kirby did not demand from Serbia to join Western sanctions against Russia. "Michael Kirby is good person and excellent ambassador", Tanjug news agency quoted him as saying.
"Don't you worry about the messages there's who should think about them. Don't worry, Serbia is in the right way. Everything will be all right", Vucic said after being asked "what kind of message Kirby wanted to send".
In the interview, Kirby stressed he did not demand from Serbian government to impose sanctions against Russia. "This is not truth. I am quite satisfied with the fact that the government has clearly announced that it respect the territorial integrity of Ukraine, including Crimea", ambassador said.
When asked whether "West helps opposition (in Serbia) to strengthen and unite itself", Kirby said such support would not be the interest of his country. "It's in your interest to have a functional democracy with alternation of power. At this moment Serbian Progressive Party has the majority and it's obvious this will remain for certain period. The voice of Serbian opposition is very low now. The constructive opposition in any country can help in improving the affairs", US ambassador concluded.
(Photo of Aleksandar Vucic and Michael Kirby)