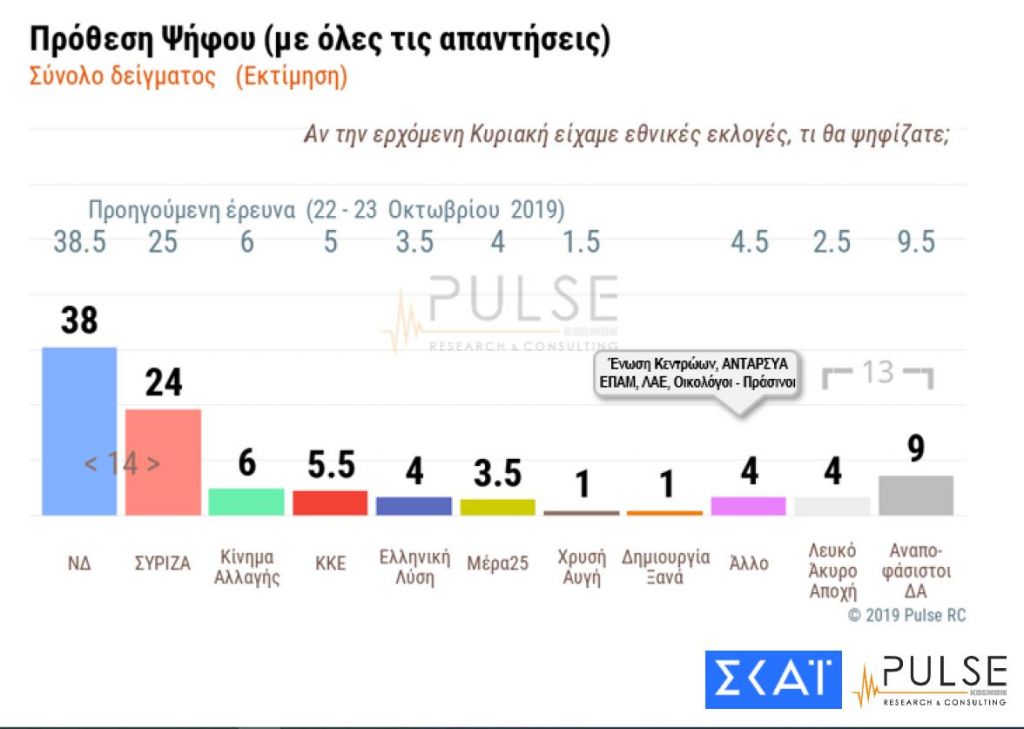 The latest Pulse opinion poll presented by SKAI TV on Thursday puts ruling New Democracy in a 14 point lead over main opposition SYRIZA, while strong support is shown for some of the government's latest policies.
More specifically, four months since the last general election, the conservative party took 38 percent with left-wing SYRIZA on 24 percent in Pulse's survey.
The Movement for Change (KINAL) party polled at 6 percent, followed by the Communist Party (KKE) on 5.5 percent, the Greek Solution party on 4 percent and DiEM25 on 3.5 percent. The neo-Nazi Golden Dawn was at a lowly 1 percent, below the 3 percent threshold for entry to parliament.
New Democracy chief Kyriacos Mitsotakis was seen as most suitable for the role of Prime Minister by 45 percent of respondents, with 26 percent opting for SYRIZA leader and former PM, Alexis Tsipras. A total of 23 percent said "nobody" was suited for PM.
In a series of questions aimed at evaluating the government's performance, 75 percent of respondents showed support for a recent initiative to stamp out smoking in public places.
Asked about the abolition of the so-called asylum law which did not allow police forces to enter university premises, 66 percent said they agreed with the policy.
More generally, 63 percent said they believe are "going in the right direction" in the last six months, with 31 percent saying the opposite.
In terms of their own finances, 48 percent of respondents viewed their own economic circumstances as "fair" (up two points from the previous poll), with 14 percent being "comfortable" and 33 percent saying their personal financial situation was "difficult" (down from 35 percent in the previous poll)./ibna