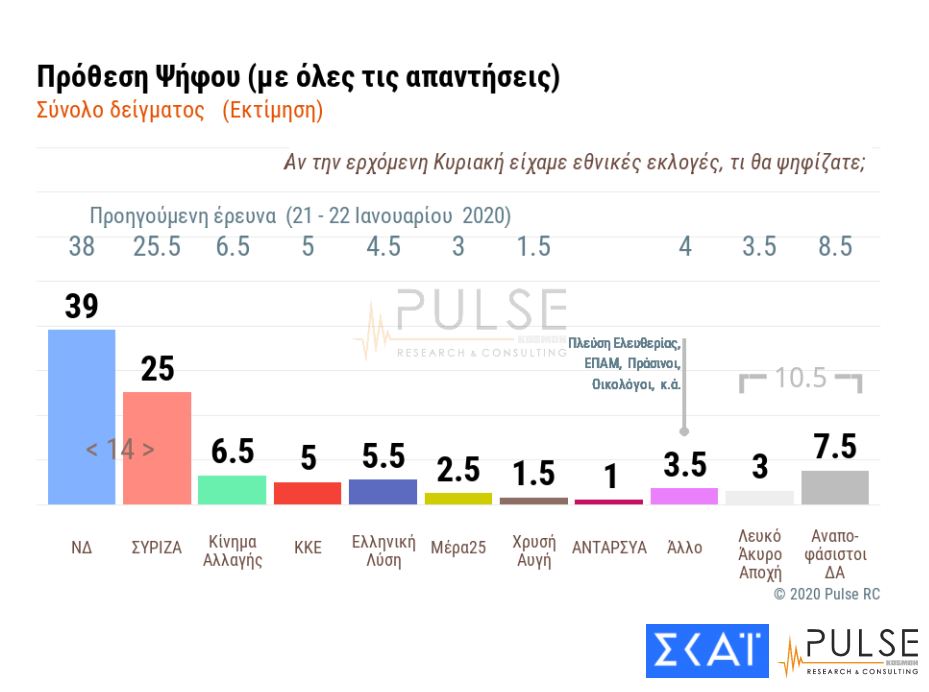 New Democracy increased its lead over main opposition SYRIZA to 14 percentage points, a March opinion poll by Pulse for SKAI TV showed on Thursday.
More specifically, the poll put the ruling party on 39 percent (up from 38 percent in the previous poll), with SYRIZA on 25 (up from 25.5 percent). The Movement for Change is on 6.5 percent, followed by the Greek Solution party on 5.5 percent, the Communist Party on 5 percent and DiEM25 on 2.5 percent.
Kyriacos Mitsotakis is seen as better suited for Prime Minister by 45 percent of respondents (up from 44 percent), with Alexis Tsipras preferred by 26 percent (unchanged compared to the previous survey). A total of 25 percent said they preferred neither of the two party leaders for PM.
The majority of respondents appear to be pleased with how the Mitsotakis administration has responded to latest provocations by Turkey, after the neighboring country directed thousands of migrants to Greece's northern borders. Eight in 10 citizens are pleased with Athens' decision to increase protection of the country's borders, with just 17 percent saying the policy is in the "wrong direction".
However, 84 percent said they are concerned at Turkey's stance and recent developments in terms of the migration and refugee crisis affecting Greece. Opinion is split over the government's intention to build closed centers for migrants on western Aegean islands.
Finally, asked about the new coronavirus, 42 percent of respondents said they were concerned about the outbreak in Greece, with just 26 percent saying they are not alarmed./ibna