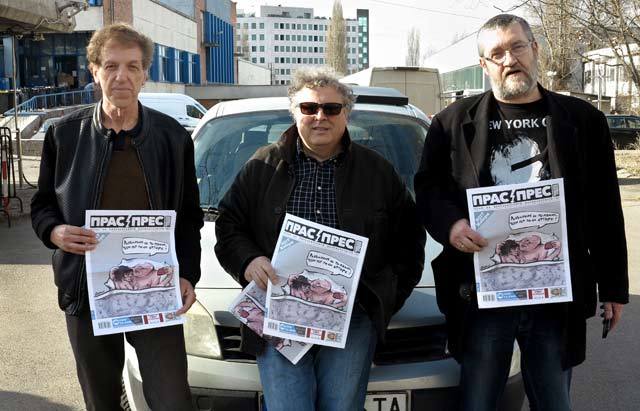 The team behind a new Bulgarian satirical publication, Prass Press – billed by supporters as a Bulgarian equivalent of France's Charlie Hebdo – said on March 4 that they would approach the Competition Protection Commission over distributors' failure to provide their paper to would-be readers.
Prass Press publishing team is made up of cartoonists Chavdar Georgiev, Chavdar Nikolov, Hristo Komarnitski and veteran journalist Ivan Bakalov.
The first issue of Prass Press had a print run of 10 000 and was to be distributed on March 1. Bakalov said that since the morning of that day, people interested in buying a copy had begun to contact them to ask where to get one.
The team had found that in key areas in Sofia where there was high turnover of newspapers at points of sale, Prass Press either had not been delivered or very few copies had been delivered.
By the evening of March 1, the publishers received messages from cities other than the capital that Prass Press was not on sale.
The team told a Sunday afternoon news conference that "more than nine-tenths of the circulation of the newspaper is hidden somewhere".
Bakalov told the news conference that the distribution company was a monopoly and was abusing its monopoly position, and the Competition Protection Commission would be approached.
He said that in regard to this encroachment on freedom of speech, the publishers would approach all international institutions and organisations that monitor freedom of speech across the globe, and would approach EU institutions in Brussels.
Bakalov said that court action would be taken against National Distribution, a company linked to media mogul Delyan Peevski, who has been an MP for the Movement for Rights and Freedoms and is standing for re-election in Bulgaria's March 2017 early parliamentary elections.
"Prass Press" is a term that was used from about 2013/14 in relation to media seen as linked to Peevski, and is derived from an expression meaning "pig press". Peevski's abortive appointment as head of the State Agency for National Security in June 2013 was the catalyst for widespread and prolonged anti-government protests against the Bulgarian Socialist Party-MRF ruling axis.
In a Facebook post, Bakalov said that several media had told the team that because Peevski was a candidate MP, his name could not be mentioned on air because of Electoral Code rules of coverage of election-related issues.
"Could someone explain to me, if I missed something, under which law would the media censor themselves when they announce the news or interview people? The strangest is that colleagues accept this as normal, ah, yes, because of the elections," Bakalov said.
"Have we accepted laws on censorship without knowing it? In which country, before elections, would it be banned to mention the names of the candidates on air? The media cannot reveal anything about a candidate, to report, for example that he was drunk, hit someone with a car and so on?"
In a separate post, Bakalov said that in response to questions being asked, about why the team was publishing a newspaper and not just doing a website "to circumvent the embargo of Peevski", the idea was to make money, given that in 10 years dealing with the internet, advertising revenues were pathetic. Besides, cartoons belonged on paper, he said.
In response to what he said was another frequently-asked question, why the Prass Press team had given the distribution deal to the company, Bakalov said that company was a monopoly, and also distributed publications such as Kapital that were hostile to Peevski.
"It turned out that 'Prass Press' is the most dangerous, the most censored edition, in spite of initial assurances from company executives that there will be no problems," Bakalov said.
Nova Televizia reported on March 4 that Peevski's name did not figure among the owners of the National Distribution company. Attempts to reach Peevski and the company had failed, the report said on Sunday.
Monitor, a media seen as close to Peevski, said that a simple check of the Commercial Register would show that Peevski did not own the National Distribution Company. An article in Monitor labelled Prass Press's allegations as part of a "fake news" campaign in which other media hostile to Peevski also were involved./IBNA
(Photo, of Chavdar Georgiev, Chavdar Nikolov and Hristo Komarnitski: Ivan Bakalov, e-vestnik.bg)