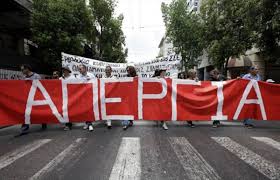 Athens, April 7, 2016/Independent Balkan News Agency
By Spiros Sideris
With the 24-hour strike and the rally at 11:00 on Thursday morning at Klafthmonos Square continues ADEDY the protests in response to the social security reform of the government.
In the strike take part, other than employees in the public sector, teachers and professors (ILO-OLME), the Panhellenic Medical Association, ambulance drivers, engineers, administrative staff of EKPA, air traffic controllers, lawyers and journalists.
ADEDY calls for massive participation of all employees, in order for the new social security bill to not pass, which as it argues dissolves the social character of security and leads to new cuts in pensions.
"With the new tax bill the government promotes new significant increases in direct and indirect taxes to ensure the collection of additional tax revenue of EUR 2 bn in 2016 and 2017. The new measures in social security, together with the over-taxation of workers, professionals and scientists, self-employed, farmers etc. impoverish the workers and the working classes and sending youth in exile", ADEDY says.
ADEDY has announced escalation of protests when the bill will be submitted to Parliament for approval. GSEE will not participate on Thursday's mobilisation, despite the expressed desire of ADEDY for shared participation.