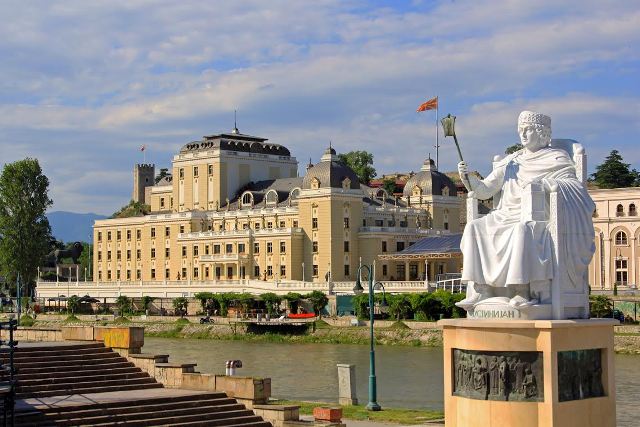 Skopje, 26 May 2016/Independent Balkan News Agency
By Naser Pajaziti
Special Prosecution in FYROM has confirmed that it is working on four cases relating to "Skopje 2014" project. The cases relate to suspicions for breaches during the preparation and installment of the central monument in Skopje's main square, "The warrior on a horse" and several other monuments built in the Center Commune. Experts say that the biggest challenge for investigators relates to the issue of tracing the money.
The documents for the construction of several monuments in Center Commune that show a number of irregularities, are now in the hands of the Special Prosecution. This was confirmed by special prosecutor, Lence Ristovska.
Besides the mayor of Center Commune, Andrej Zhernovski, the irregularities have also been denounced by Sladjana Taseva and Dragan Malinovski, experts in the domain of the fight against corruption.
"I think that what would interest more to the Public Prosecution is the way the money has flown. From this we will truly understand what has happened with the Skopje 2014 project", declared Sladjana Taseva of "Transparency Macedonia".
Taseva said that one of the challenges of the Special Prosecution will be the tracing of financial transactions to companies in Italy, where the monuments have been engraved.
The mayor of Center Commune, Andrej Zhernovski is expecting an investigation by the Special Prosecution of "Skopje 2014".
"The evidence that Special Prosecution received were enough to start an inquest", Zhernovski said, adding that this prosecution has launched four cases on the Skopje 2014 project, relating to suspicions for financial abuses during the project.
As an initiator of Skopje 2014, VMRO-DPMNE has declared that there are no unlawful acts relating to this project.
VMRO-DPMNE presented this project in 2008 by saying that the cost of the Baroque style monuments would have a cost of 80 million euros, but according to the opposition and the media, the project's cost until now has been 600 million euros. /balkaneu.com/