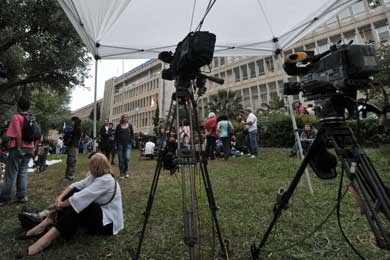 Two opinion polls published over the weekend indicate that the majority of Greeks oppose the closure of ERT.
A Kapa Research survey for Sunday's To Vima newspaper suggests that 64.4 percent of Greeks regard the decision to shut down the public broadcaster as either negative or "probably negative." In contrast, 32.1 percent of respondents said they view the government's move as positive or "probably positive."
A poll by VPRC for the tvxs.gr website indicates that as many as 65 percent of Greeks oppose the closure of ERT, while 27 percent are in favor of its TV and radio service being taken off air. Five percent said they were neither in favor nor against.